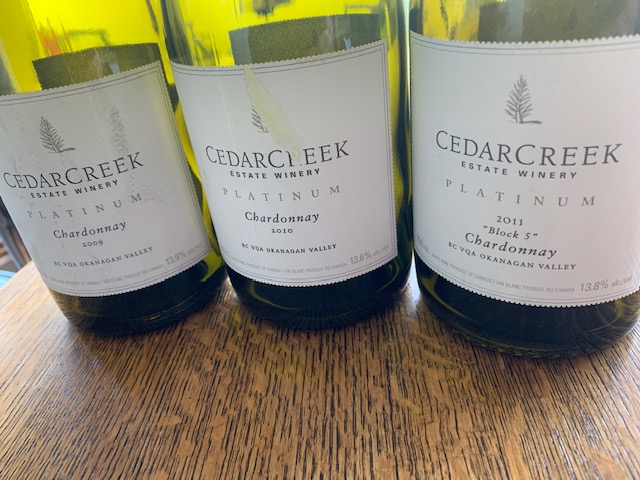 Your scribe has appreciated this enforced down time during 2020 to study some older vintages of British Columbia wines. Yours truly has been a major cheerleader internationally for decades of the BC wine industry hoping for the global recognition it is now starting to receive. Sometimes I feel my jaded palate has tasted more BC wines than it wanted to or could fairly process. In the early days there were far too many unripe very high acidity unbalanced examples followed later on by an over abundance of ripe overly extracted big alcoholic ones. Now climate change concerns but refined viticulture & winery know-how combined with the benefits of older vines has allowed everything to be put together so much better in producing many fine world class wines. Generally the reds have been aging far better than the whites with surprising treasures to be found among older delicious pinot noir, syrah, merlot, and other varieties & blends. Also sparkling. Whites less so though old plantings from 1968 of chenin blanc, and 1978 riesling have definitely shone brightly. Therefore it was a delightful surprise and inspiration to learn what an undiscovered gem they may have with aged chardonnay. Who in their right mind is cellaring New World Chardonnay? Not many of us though I must say I enjoyed recently an old bottle from the seventies of a brilliantly made Stony Hill Napa California chardonnay. Most of us are even sceptical now about aging top white Burgundy worried of pre-mox issues. Recently the safest course of action is usually to buy and drink chardonnay early on to enjoy the bright fresh fruit of this classy varietal. On the other hand there is a minority argument that can be made to give some of the best ones more time in bottle to develop more nuances and complexity in the bouquet and flavours.
In my recent studies it was revealed that CedarCreek Estate Winery is under appreciated for the success they have achieved with chardonnay in their Block 5 Platinium releases. This special site is cooler and higher up the slope directly below what used to be the winemaker's front porch before the new winery was built. Now it is at the top of the Home Block Vineyard. Fun to compare in September 2020 three consecutive vintages of 2009, 2010, and 2011. All are still bright fresh and lively but presently quite different in their style too:
2009: Back label by then respected proprietor D. Ross Fitzpatrick presents wonderful detailed information – "Made from clones 76, 96, and Washington whole berry cluster pressed & 100% barrel fermented. Hand harvested at CedarCreek, Greata Ranch, Mauz, and Duncan Vineyards aged 10 months in French oak from coopers Francois Freres, Mercurey, Berthomieu, Remond, and Dargaud & Jaegle." Not yet using only Block 5 grapes but 13.9 alcohol in a rich full textured mature forwardly rare treat perfect with Dungeness crab! Well done.
2010: Cooler year coming in at 13.6 using for the first time only Block 5 vines but not shown as such on the front label. Again excellent back label info provides "made from Clone 76" with berries, B-F, oak and coppers all the same as 2009. However the wine is dramatically different. Fresher very lively with ample quality fruit balanced by excellent acidity. Would shine brightly paired with most fresh fish dishes. Amazing effort.
2011: First Block 5 on the front label at 13.8 alcohol. Back label repeats from 2010 info with 2 differences – now 11 months in French oak instead of 10 and using both "oak barriques and puncheons". This 2011 was another cool year but so different yet again – a true marvel. Unbelievable high acidity more than you would expect from a younger Premier Cru Chablis. So fresh and alive with complex nuances on the nose. Super vibrant lift. Match this with fresh oysters and enjoy the experience!
Your scribe hasn't tasted 2012-2016 this month but is quite familiar with them from earlier tastings. More wine making refinement has been taking place but still at reasonable alcohol levels under 14 and always showing bright fruit. 2012 was quite tart to enjoy on release but has those underlying citric floral notes that are being helped by cellaring; 2013 very bright pure fruit with no malo (acidity preferred again) and gentler oak from those 500 litre puncheons; 2014 was the sale to VMF Estates (Anthony von Mandl) with "Single Vineyard" added to the front label and a still informative redesigned back label of "rich, ripe fruit in 2014"; 2015 was sunny with more rounded tropical notes but nonetheless not too soft for the vintage; 2016 back label has a useful map of vineyard Blocks including showing Block 5 "Elevation 460m, Slope 15%, Aspect Northwest, Soil Composition Loam & Stone, and Age of Vines 11 Years".
The new focused team led by talented winemaker Taylor Whelan are making great strides with all the CedarCreek wines aided also by a brand new state of the art winery. The farming practices are changing too with 2018 Platinum Chardonnay being the "second year farming it organically". The result is riper phenolics in the grapes but with less brix sugar turning into alcohol as it comes in at only 12.9. Harvest September 19 at low pH 3.15 but 8 g/l acidity used 100% wild fermentation in barrique & puncheons with 14 months on the lees. Smart by them to let the finished wine sit in stainless steel for 6 additional months to help integration of components before bottling. Bargain for $35. Like their emphasis on single vineyards and Blocks plus even small lot single clone pinot noirs. Your scribe admires their proven abilities to craft all their wines with a touch of distinctive finesse. Less is often more. If the Platinum Chardonnays from 2009 on are aging so brilliantly you have to have real assured confidence in how the more recent vintages will turn out! Encourage you all to try aging more top Chardonnays from BC – and also those limestone beauties from Ontario. Making a quality statement!
---
You might also like: