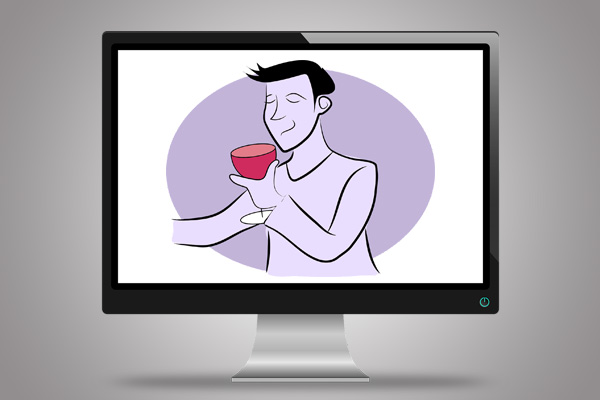 We now all know about the importance of physical distancing to keep that Covid-19 virus away from us. This makes the old possibility of holding wine seminars or group wine tastings presently most difficult indeed. Besides you are supposed to be staying home anyway. Over the last month there has been an explosion of another whole industry to provide meetings on line led by ZOOM Video Communications for everything from video conferencing to just keeping in touch with family and friends. What started out as mainly a business application is now a dramatic consumer social networking platform. They haven't solved yet digitizing the aromas of fine wine on line (but it may be coming with AR (augmented reality) technology in the future. In the meantime it is working well in providing winery updates and detailed vineyard & wine information with limited participatory discussion. Some interesting examples this past weekend include @JancisRobinson on ft.com with a live Q & A on where to buy wine online (need that in British Columbia and other North American jurisdictions); Pressoir.Wine at home session with Olivier Krug ($50 registration benefiting ROAR Foundation) featuring Krug Grande Cuvee 168th Edition, and also Dominque Lafon (in support of NoHo Hospitality Family Fund) on his Beaune 1er Cru Greves 2017; and Live Tastings with John Kapon @ackerwines on both Zoom & Instagram of "The Great Wines of Austria" with Sommelier Aldo Sohm 8 pm ET today April 6 and "2000 Bordeaux" April 8th same time.
Highly recommend what Antonio Galloni of Vinous & Delectable is doing with this new opportunity to provide wine knowledge to a thirsty community on line. Started it on March 28 with Marquis d'Angerville, April 4 Domaine Dujac and this morning April 6 with Vietti. Ambitious ongoing free programs planned of Vinous Live! all this week with an impressive most interesting guest list. Be sure to tune in.
A few sample information gems I picked up from enjoying the last two webinars mentioned with Zoom on line:
1. Jacques Seysses of Domaine Dujac compares 2017 vintage with 1984, 1994, and 2004 as good years but lighter in structure. No really unripe vintages since the nineties. Have been green notes in some wines from ladybug (coccinella) invasions in 2004, 2011/2012 and for other reasons. His father Jacques used 100% whole cluster but he still uses 80-85%. Warmer vintages seem to give less integration of oak perhaps because of more skin tannins so cutting back on oak so only 75% for Grand Cru and less for 1er Cru down to 25%. Climate change: Riper means extract faster so he is cooling down the grapes but has his foot on the brake with fewer pump overs and punch downs. Most concerned with warm Winters for early buds followed by cold Springs for frost. Chablis already is geared up but Bourgogne needs to do more preparation. Antonio Galloni likes the variation in 2017 meaning you have to taste carefully and get the unexpected curve balls. Likes the unknown small producers for example in Maranges to find surprises you can actually afford and the beauty in that. Or the village wine of top producers like Roumier. AG likes Dujac's wines including Romanee St. Vivant and iconic Clos de la Roche but admitted his favourite to collect is Bonnes-Mares.
2. Luca Currado of Vietti with Alessandro Masnaghetti map expert and AG on three way split screen. Still technical issues to resolve as only audio of LC and no video of him for first 15 minutes. Fun tour of the vineyards on line without having to drive those steep very narrow roads in Castiglione Falleto. Luca drinking Champagne for "bubbles fun & happiness" he calls it the "altra Langhe" with Burgundy too. Later switched to Barbera d'Alba from Cappellano of Gabutti. AG had his 1999 Barolo Ravera Vietti ready. Luca said this vineyard struggled in the sixties and seventies but now can be a bit too ripe sometimes but has those typical strawberries. AM not convinced new climate is changing the best historical vineyards in Barolo as they are still there in their unique terroir and producers are reacting to it all. They all like the real classic style of 1996 and 2010 vintages.
You might also like: