One of the real highlights of each Vancouver International Wine Festival is the popular Boardroom tasting spotlighting an important world class wine. This year for the 42nd annual VIWF a most classy perfectly organized event on February 25 of one long table in the Vancouver Club featured a 12 year vertical of Nota Bene of Black Hills Estate Winery from Black Sage Road desert in the south Okanagan Valley of British Columbia. This was a preview for their upcoming 20 year vertical (1999-2018) events later this year celebrating the release of their 20th vintage. Nota Bene is a red Bordeaux blend of Estate vineyard 3 grapes (cabernet sauvignon, merlot & cabernet franc) selection that vary each vintage that is seeing an amazing quality evolution. Current winemaker is knowledgeable talented Ross Wise newest MW who deftly led this tasting together with experienced Chief Wine Evangelist Glenn Fawcett. Your scribe who has studied these wines often since the first 1999 vintage and knows them quite well also chimed in with a few current tasting impressions and historical background. A few of us had suggested that earlier vintages sometimes contained too much young under ripe cabernet sauvignon in the blend which influenced their one-off major change in 2012 of using instead 57% merlot & 35% cab sauv. Pleased that since then they are back using a majority of older vines (first planting in 1996) now with climate change better ripening cab sauv in their more recent blends. Ross updates that 2016 was a hotter year but with a long growing season showing very good results, 2017 has low low yields with a concentrated structure already delicious but will age well, and 2018 soon to be blended is coming along really nicely too. The pipeline looks encouraging indeed. More details on the 12 wines tasted are shown in the photos posted but here are a few brief tasting impressions:
2000: Three bottles opened all slightly different. Ross described them as (a) Bold cooked berries (b) Lean more developed earthy cigar-box (c) Marmite barnyard leafy though savoury. This vintage was tasted first but poured last and though showed somewhat lean after the tasting had finished opened up to a most promising complex intriguing licorce bouquet. Longevity probably helped by lower pH grapes in a wine that can use airing.
2003: Hottest year showing more alcohol and mushrooms. A bit funky.
2005: Average year with some rain now fully developed but leafy cab franc styling with brown sugar flavours.
2006: New era with a state of the art winery opening. Vintage hotter with a salty briny character.
2007: Quite good structure in an "Old World" style with leather and fading towards the finish.
2008: First year of drip irrigation but colder conditions resulted in higher acidity. Leaner palate with less weight. Shows that intense herbal almost minty notes.
2009: Shows very well indeed with round rich seductive flavours from a warmer year. Mushrooms again but much more cassis & cedar with a better silky texture. Always a consistent favourite of your scribe at every vertical. No rush.
2010: Very cold year with less ripe tannins more grainy resulting in a reserved style.
2012: Dark easy more approachable but still young with prominent merlot variety. Selection for Nota Bene now better with start of 2nd label Cellar Hand red plus also the increased barrel time from 12 to 18 months.
2013: Last use of that bolder 20% American oak but wine is quite delicious.
2014: 100% French oak with 30% new impresses as does the wonderful structure of this vintage with higher vibrancy. Like the rich concentration too showing blackberry, black currant, dark cherry and firm tannins. Outstanding aging potential. Excellent!
2015: Warmer year in a big intense riper smoky more forwardly opulent character.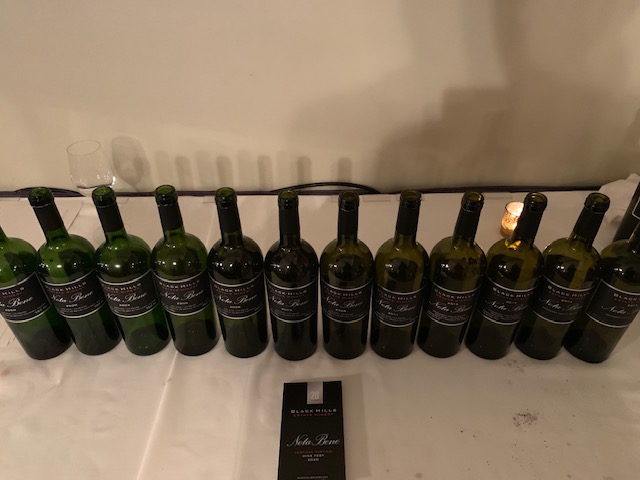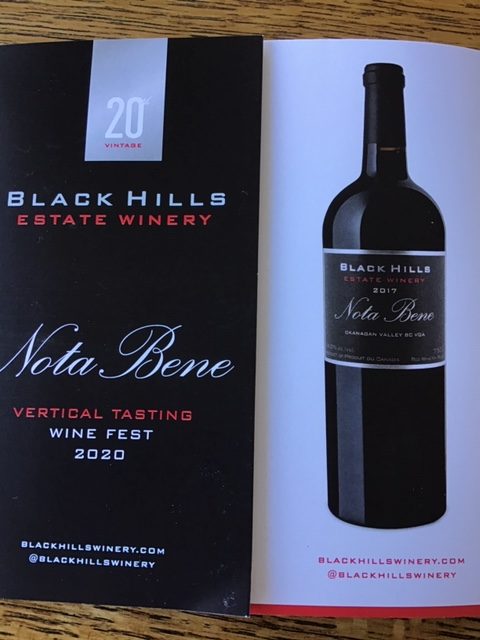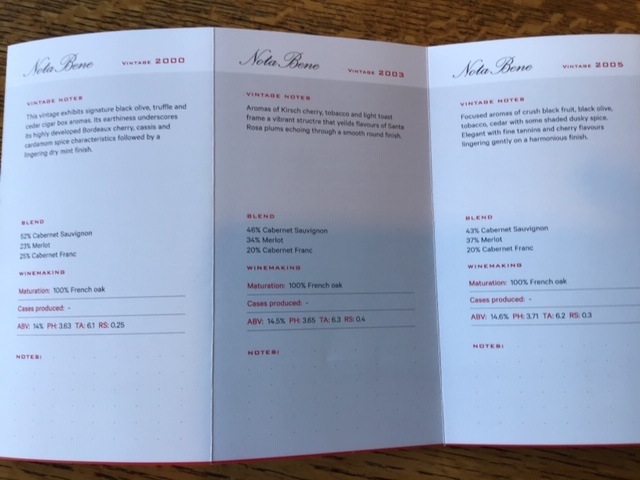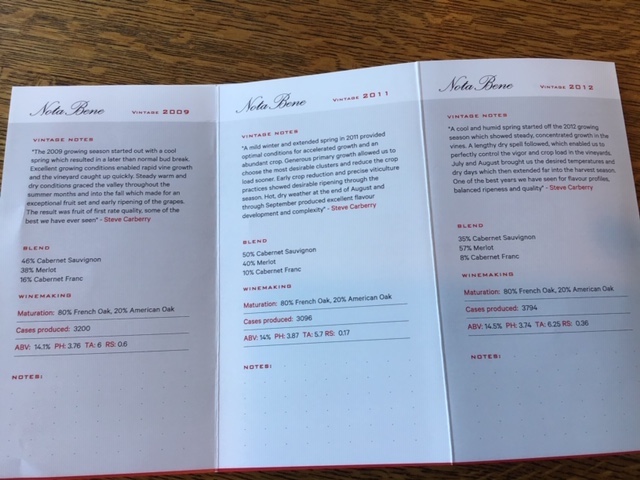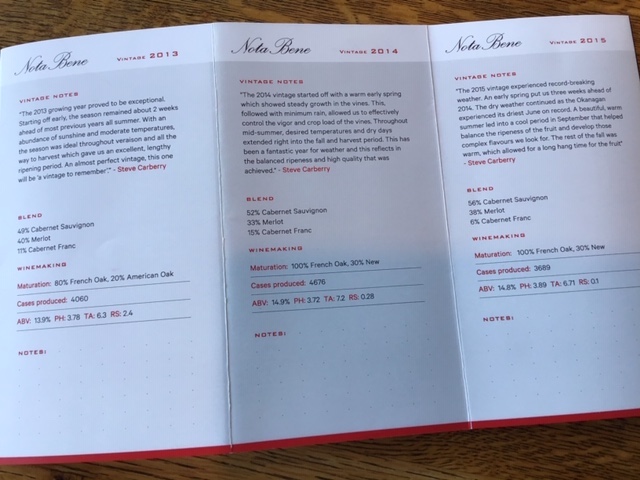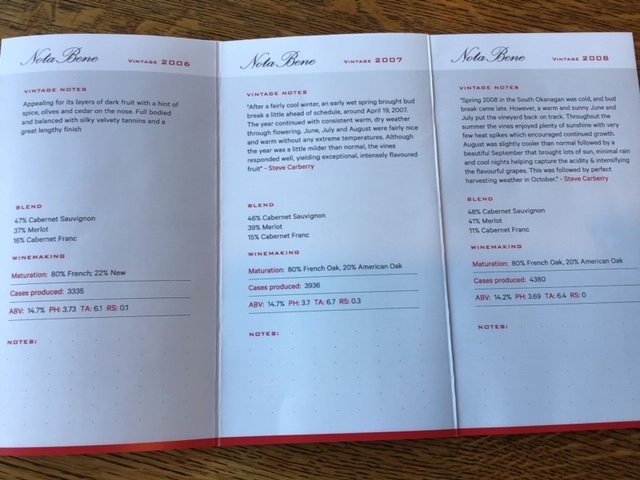 You might also like: