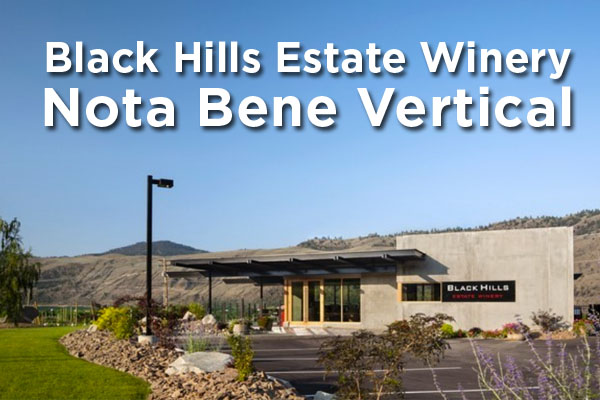 The Okanagan region in British Columbia is finally emerging as not only capable of producing excellent white wines but also red. Plantings increased in the nineties for the most southerly areas and are now resulting in better red wines from aged vines fruit. One of the leaders has been Black Hills Estate Winery iconic Nota Bene (means "note well") Bordeaux-blend style "Single Vineyard, Terroir Specific" red wine from vineyards planted starting in 1996 on Black Sage Bench. Sandy desert soils with hot summer temperatures that can reach 46C but cool down to 10C in the evening results in a broad range that protects the acidity of the grapes and allows for longer hang time for them to reach phenolic ripeness. Using sustainable farming practices with suitable multiple clonal selection of 4 different cabernet sauvignon, 4 merlot and 2 cabernet franc has provided flavour diversity with depth. President Glenn Fawcett plus Winemaker Graham Pierce with the whole competent wine team deserve a lot of credit for their dedicated hands on approach to tending, picking, & sorting in the vineyards and quality evolution in the winery using less extractive methods. Your scribe has attended several verticals of their wines with the most recent one being at Whistler's Cornucopia on November 12, 2016 and here are some brief impressions:
1999: First one of only 1600 cases from 4th leaf vines was from a very difficult vintage made by Rusty Figgins a member of the family that founded Washington's famed Leonetti Cellar. Light mature colour showing gamey, earthy tobacco & brown sugar from 64% merlot but 26% cab sauv green not ripe enough.
2003: Hot year higher alcohol riper 46% cab sauv (34% merlot 20 cab franc) made by Senka Tennant (now has Terravista Vineyards) expresses black olives, blackberry, graphite and those signature sage herbs.
2004: Normal year was quite herbaceous when young and has developed more quickly – ready now.
2005: Better balance and more flavour depth here of raspberry with some black fruits too. Like this. Developing well.
2006: Year the winery opened but much more herbal minty "oven cooked tomatoes" spice. 14.7
2009: Conveyor belt berry sorting line and new press for 2nd year of Graham Pierce winemaking. Lovely rich black cherry fruit impresses. Potential here.
2013: Prefer the moderate alcohol of 13.7 and the grape variety balance of 48 cab sauv, 41 merlot, and 11 cab franc. Now in 18th leaf with better aged vines noted. Better selected quality fruit now because of Cellar Hand second label that was started in 2011. Texture and smoother tannins admirable. Elegance.
2014: Extended barrel aging program started. Still tight but amazing concentrated plummy fruit with softer integrated tannins carrying the high 14.9 alcohol well. Quality richness here.
As 2015 had good weather with a long growing season & in 2016 the crop looked good during picking and in barrel both vintages are sending signs of consistency and the best may be still to come. Another Nota Bene vertical is scheduled at the upcoming 39th Vancouver International Wine Festival (vanwinefest.ca) on Wednesday February 15, 2017 showing 9 vintages from 1999-2014. Highly recommend.
---
You might also like:

Loading ...