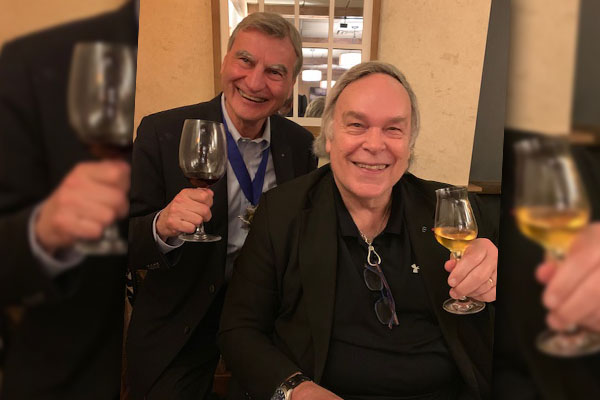 Some of us really miss those scholarly wine reviews by Bob Parker. He set a pretty high bar for many decades for those now taking up this difficult challenge in a much expanded world wine market. He is officially retiring from Robert Parker Wine Advocate as announced by Lisa Perrotti-Brown MW, the publication's editor-in-chief on their website this month. Articles are coming forth saluting him including Jamie Goode at wineanorak.com plus one by Felicity Carter in Meininger's Wine Business International here. A few us just enjoyed two dinners with him and his charming smart wife Pat in Baltimore with wines picked by them from their own personal cellar served at two top restaurants all with a charitable focus for The US Navy Seals. What a treat to see them both again. Bob received a most deserving Lifetime Achievement Award from the Society of Bacchus for his many contributions. He was most delightful during both dinners and truly moved by it all while deflecting a lot of the inspiration and credit to Pat. They will be celebrating their 50th wedding anniversary this July. He modestly stated that he was in the right place at the right time starting out in 1978 with no social media to jump on him for his mistakes. He strongly felt you had to believe in what you were doing with constant perseverance always with a vision of the long range view of things. What a success story!
Interesting choice of restaurants where the Parker's knew the owners, chefs, and especially their long serving sommeliers so very well. Boy were we ever treated like royalty. Vito in Cockeysville in the outskirts with Owner Vito Petronelli, Chef Luca Pesci, and sommelier Nezam Mojarrad were brilliant as were co-owners Chef Cindy Wolf & Wine Director Tony Foreman and brigade at Charleston established in 1997. The menus show the food courses and wine matchings. Wonderful large unique format (12-15 litres) 1990 Bruno Giacosa Barolo Falletto with a special label dedicated to Parker that had developed a rich full smooth texture at 30 years but so fresh and classic too was a star. Surprised also at how vibrant the hot vintage 1997 Barolo Le Vigne from Sandrone showed on a perfect plateau of enjoyment in double magnum. Your scribe poked fun at Bob serving 1990 Grand Puy Lacoste a mutual fav chateau of us both. Reminded him how his first book gave the 1970 only 74 points but the next edition (after prodding by me) moved it as bottle variable but to a score of 90. That vintage was made by gourmand Raymond Dupin but of course even better since taken over by Jean-Eugene Borie & son Xavier starting with the 1978 vintage. The mags of 1988 Climens were magnificent combining balanced acidity with richness. Interesting Bordeaux impressed the second night with 2003 Montrose displaying good potential though still young but 2011 Sine Qua Non both the Grenache & Syrah received more split decisions with that stronger jammy 15.5 alcohol when paired with the lamb course. Bottle variation on rich 1989 La Tour Blanche with one fresh lighter colour more complex while another darker and tiring more advanced.
A rousing cheer of thanks to Bob & Pat for their contributions over so many years and pleased to report to all fans around the world that they both are well and thriving in Baltimore!


center
---
You might also like: