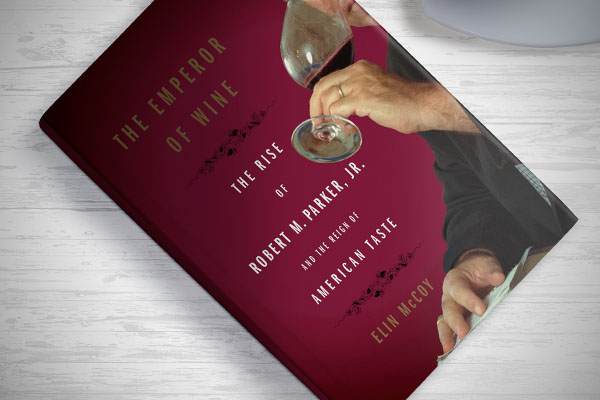 By Joseph Temple
Whether you love him or hate him, there's simply no denying that Robert Parker has left—and is still leaving—an enormous footprint on the world of wine. From the wineries that plaster his 100-point score on their bottles to the bookstores and online retailers that sell the latest edition of his Wine Buyer's Guide, to say that Parker is ubiquitous would be an understatement. Nearly forty years after publishing the first issue of The Wine Advocate (known then as The Baltimore-Washington Wine Advocate), his status has been etched in stone as the world's preeminent critic with former French president Jacques Chirac describing him as "the man who taught America about French wine."
Given such an impressive resume, it makes you wonder how a regular guy from Baltimore ended up becoming the ultimate authority on Bordeaux? With all the prejudices Europeans exhibited towards Americans and their wine habits back then, how did someone like Parker rise to great notoriety in such a short amount of time? Thankfully, author Elin McCoy provides all these answers in her fascinating 2005 biography aptly titled The Emperor of Wine: The Rise of Robert M. Parker Jr., and the Reign of American Taste. By speaking to the man himself as well as many other prominent figures, McCoy excels at painting a fascinating picture of both Parker and the landscape he completely altered.
Starting with his early life, the author provides plenty of insight that oenophiles will no doubt find fascinating. Anyone thinking that Parker's first sip came from the bottle of Pétrus or Romanée-Conti will be shocked to learn that the infamous André Cold Duck from Gallo was the first wine he ever tasted. However, members of the International Wine & Food Society will be glad to know that as Parker began his wine education, some of the first books he read on the subject were by IW&FS founder André Simon!
Providing context to Parker's formative years, McCoy shows just how far Americans in general have come in terms of their collective wine knowledge. Writing about a local wine shop in 1950s Georgetown where Parker cut his teeth, she recalls a humorous situation involving the in-house French sommelier that recommended a dry table wine. "How can it be dry? It's liquid," was the response from one customer. And moving into the early 1970s, readers might be surprised to learn just how big of a divide there was in terms of wine tastes. While Americans living on the west coast generally preferred local California wines, the Eastern Establishment had little to no interest in their own domestic market, believing that France and only France knew how to make the great vintages.
Working as a lawyer in Washington DC before launching his now legendary newsletter in 1978, again, the author shows us how important historical events were in shaping Parker's career. Living under the shadow of Watergate and Vietnam, he envisioned himself as the Ralph Nader of wine, exposing a corrupt system where writers recommended wines that they were importing and selling at the same time – a clear conflict of interest that wasn't being disclosed to their readers. Embarking on a completely different strategy, The Baltimore-Washington Wine Advocate separated itself from the herd by not accepting any advertising dollars while paying for all the wines they reviewed out of their own pockets.
Of course, what revolutionized the entire industry was Parker's trailblazing 100-point system for rating wines. As the author explains, "Now that so many other publications, as well as retailers, have adopted the same system it's hard to realize how unusual it seemed at the time. Other wine publications in Americas didn't bother with numbers at all, relying on categories or puffs or starts to convey levels of quality." Tracing back the origins of this system, we learn that Parker's team considered grades from A to F but ended up with an evolution of the 20-point system created by the oenology department at the University of California, Davis. But in reality, it is actually a 50 to 100-point system, as Parker explains that every wine automatically gets 50 points just for showing up.
What enshrined his legacy however was the 1982 Bordeaux vintage, which he predicted, "will go down in the annals of Bordeaux wine history … they are destined to be some of the greatest wines produced in this century." Using his newsletter as a bully pulpit, the wine critic single-handedly gave the futures market a much-needed shot in the arm with his raving endorsement. Interestingly, while oenophiles are almost universal in their praise of that vintage today, many critics and magazines back then, including The Wine Spectator argued that buyers should focus on other vintages with Terry Robards arguing that the '79 was superior. But given Parker's independence and a slew of hyped vintages from the 1970s that never delivered, the '82 Bordeaux is when wine aficionados en masse began to trust Parker as the ultimate source—a trust that continues on to this day.
With such great power has also come great criticism, which McCoy doesn't shy away from in her book. Digging into what his detractors (aka the Parker bashers) have argued, including the allegations that he only likes a certain style and that he has created the "Coca-colonization" of wine, it is one of the most interesting chapters. Even more fascinating was what became known as L'Affair Faiveley where the Domaine sued Parker for libel only to have the matters settled out of court. As you read through The Emperor of Wine, you can definitely see why he is such a polarizing figure, being referred to as "Le Grand Bob," "The Wine Dictator," and "His Bobness" by a host of critics.
And then there are all the great anecdotes that you'll want to share with others at your next wine tasting. Like did you know that Parker's nose is insured for a million dollars? Or that winery owners have tried to bribe him with Porsches, vacations and even their own daughters in order to get a good rating? Surprisingly, it was cool to see that Parker was really ahead of the curve when he signed up with Prodigy back in 1988 as their resident wine expert, long before the Internet explosion that transformed both the wine business and society as a whole. These great stories alone make the book a worthwhile read.
As the most concise and thorough biography of Robert Parker on the bookshelves today, The Emperor of Wine is an essential read for oenophiles because it is not only a great history of the man, but also a great history of American wine culture over the past five decades. With the balance of power shifting towards the United States at the end of twentieth century, it almost was inevitable that someone like Parker, who McCoy described as "a regular guy writing for other regular guys who just happened to be passionate about wine" would rise to the top.
---
You might also like:

Loading ...