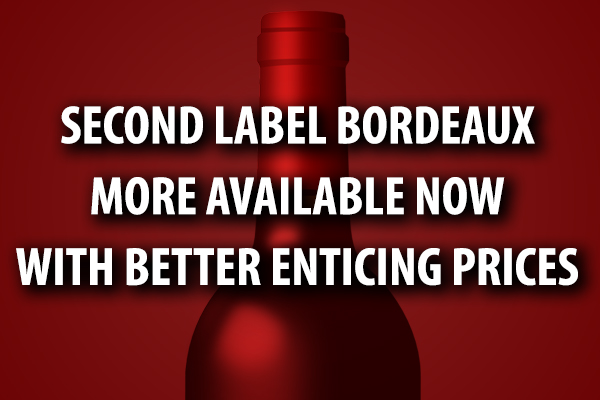 The 1855 classified growths of Bordeaux and other "boutique" properties particularly on the Right Bank have been a "luxury" item to most wine consumers for some time now. There are lots of lesser known wines including so-called Cru Bourgeois of high quality that you should be trying on a regular basis. In addition most of the top estates provide a second cuvee (and sometimes even a third & fourth) that are becoming more widely available at competitive pricing. Historically these wines go back several centuries but became more prominent in the 1900s including Pavillon Rouge of Chateau Margaux and Reserve de la Comtesse from Pichon Lalande. Leoville Las Cases in St. Julien has marketed a quality one from early on as Clos du Marquis. Now the Grand Vin may be from specific parts of the vineyard (eg. Chateau Latour) and usually doesn't include the grapes from their younger vines. Many properties are using extremely strict selection in what goes into their first wine. Visits this year by your scribe to both Chateau Margaux showed only 35% in the Grand Vin and even the smaller La Conseillante in Pomerol which produces only 35,000-40,000 bottles per year holding back about 8,000 for their second wine. Contrast Petrus or Le Pin that don't produce a second wine. This provides a wonderful opportunity for the wine consumer to try these prestige properties through a second label. This is particularly apt presently with 3 very good vintages in the pipeline of 2017, 2016, and 2015 – plus of course those sublime 2010 & 2009.
All this came to mind earlier this month at a tasting dinner with all red wines being served double blind in 2 flights of 4 wines each. The first flight had #1 with a dark red youthful crimson colour with lots of Bordeaux-like cedar fruit aromas in a bigger style but this bottle slightly TCA corky. #2 similar tones but cloudy with a paler rim. Nose clean attractive open but quite tarry fruit. Hard to place. #3 very deep and bright right to the edge with again big fruit but showing best sweet riper cherry aromas. Impressive. #4 red but less depth paler edge looking older but has a slight touch of rustic brett. Quite a robust full bodied group of wines bringing forth comments of both California & Medoc. Muscovy duck breast with a confit of duck Ravioli napped by an Amerena cherry reduction brought some more cherry notes to the wines. Puzzling. Second flight provided better bottles and more consistent styling. Wine #5 deep dark rich very St. Julien/Pauillac styling on nose and palate. Intense classic. #6 less depth of colour and more medicinal aromas (guessed Leoville-Barton) is leaner but with good balance. #7 Deepest and darkest of all 8 wines with superb licorice concentration of powerful fruit. Outstanding. #8 clearly older than first 3 in this flight. Open cedar cinnamon with lead pencil has complex breeding on a plateau of more mature styling for drinking. Wonderful flight. Some second label positing raised in discussion.
The wines:
1. 2005 Pavillon Rouge du Chateau Margaux
2. 2002 Pavillon Rouge du Chateau Margaux
3. 2000 Pavillon Rouge du Chateau Margaux
4. 1983 Chateau Margaux
5. 2005 Carruades de Lafite
6. 2001 Carruades de Lafite
7. 2000 Carruades de Lafite
8. 1983 Chateau Lafite-Rothschild
Very expensive today to try First Growth Bordeaux. Fun to compare their younger second labels with the real thing from a more mature vintage. They did well served double blind. Both 2000s really shone brightly!
Try some second labels. Some fair values out there from the second to fifth growths. Check out Alter Ego de Palmer!
---
You might also like: