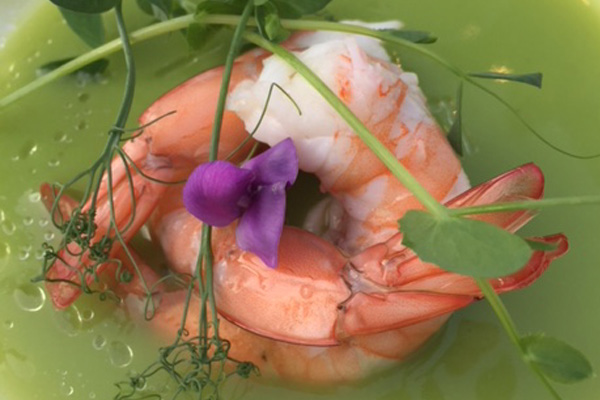 Sunday August 4, 2018 was #FoodDayCanada highlighting the diversity of food in Canada. @FoodDayCanada is about many things including celebrating the beautiful produce you have #HomeGrown as #LocalFood in your own #BackyardGarden. We have been growing food on a small scale for many years first mainly unique heirloom tomatoes (now widely available seasonally at all the farmer's markets) but more recently most successfully with "mangetout" snow peas (eaten whole in its pod) and delicious "extra fin haricot vert nain filet sans fil" (fine bush green beans without any string). Enjoyed these local special treats during all of July and early August.
However an outstanding menu shared @FairmontWhistlr at the base of Whistler Mountain on The Wildflower patio really raised the quality bar of this admirable concept. Executive Chef Isabel Chung, Executive Sous Chef Derek Bendig & brigade prepared a delightful picturesque seven course menu that used only produce grown in the hotel rooftop herb garden (including now 12 hives of bees) or their own personal gardens. A remarkable feat well done! Also featured were grass fed beef from Hanceville Cattle Company, sustainably land farmed West Creek's Coho Salmon, and Langley's Berezan Shrimp sweet and fresh as alive in tanks just prior to cooking. Each course was appropriately paired with the hands-on artisanal farming plus quality winemaking @RocheWines on #Naramata Bench #Okanagan. The meal certainly reached their excellent goal of "marrying tradition with innovation" but indeed celebrated the idea of Food Day Canada in just the right way. A remarkable feat very well done!
Do you have a special annual day on which you celebrate the glorious local food in your city or country?


center
---
You might also like: