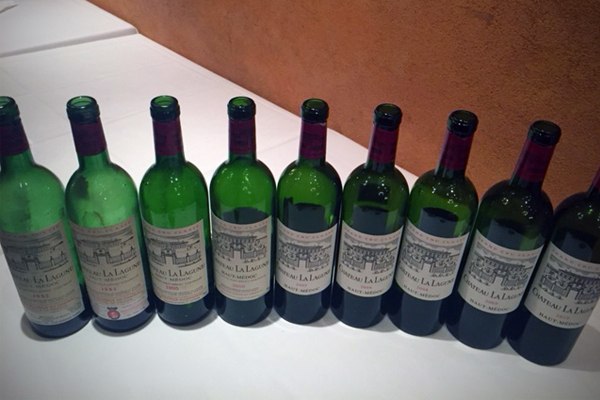 Château La Lagune is a long time favourite Bordeaux of this scribe. I became interested in the property during early wine collection years because it was a Third Growth in the prestigious 1855 Classification yet it always sold much cheaper than most other classed growths. Remember well that very Burgundian styled 1961 from very young replanted vines done at the end of the fifties. It was owned since the early sixties by Ayala Champagne and managed by Madame Boyrie with visitors stopping at this first classified growth on the busy D2 road. However the wines were lighter and somewhat hit and miss though enjoyed often the underrated 1966 & 1970. The vines got older and the wines improved with much higher achievements in 1990, 1989, 1986 and especially their outstanding 1982. However during the nineties the wine underachieved.  So it was with great enthusiasm in 2000 to see the new ownership by the Frey family (includes Jaboulet's Hermitage La Chapelle, Château de Corton Andre, shares in Billecart-Salmon Champagne & Château d'Arche) with Caroline Frey managing since 2004. The wine still remains excellent value for the high quality delivered.
Vancouver native Catherine Stewart just returned home as new Chef de Cuisine at Vancouver's acclaimed CinCin Restaurant. She had been recommended by Chef Joel Robuchon to her previous position of five years as Executive Chef at Château La Lagune. Therefore it seemed like a good idea to see what food courses she would match with a vertical of that property and to get her insights. Accordingly a dinner was held on June 25, 2018 with 9 vintages spotlighting mainly the new regime but with an old cherished winner. Some brief comments:
First Flight: 2010, 2009, and 2008. All showing young very dark intense red colour. 2010 vibrant cool deep fruit so classic. Typical Bordeaux styling but more complex plus powerful intensity than expected from this Château. Some Margaux-like notes. Long aging potential. Very impressive indeed. Contrast the 2009 warmer riper fruit delivering rounder fuller richer softer taste. Some iodine notes and also lovely concentration though less defined terroir but more early approachability. 2008 more typical herbal Merlot Graves-like expression showing through with nice balance but less depth.  Catherine's insightful choice of Pate en Croute with foie gras & truffle is a perfect pairing. All three wines display the expected vintage characteristics very well plus show to advantage the substantial improvements that are taking place both in the vineyard and the modernized winery. Better selection for the Grand Vin.
Second Flight: 2006, 2005, and 2000. 2006 deep but rim is changing tone. Most minty herbaceous though some admirable open Right Bank-like flavours. 2005 has a much darker colour with outstanding depth of fruit. Impressive style so structured on the nose and palate. Mid-palate completeness and fullness. Excellent future. 2000 still surprisingly youthful red in appearance with an attractive ripe licorice more mature bouquet but no rush. Lovely drinking now though. Expected the traditional La Lamproie a la Bordelais course but preferred instead as the match an excellent fresh local halibut pan seared by Chef Catherine.
Third Flight: 1995, 1983, and 1982. Nineties underperformed and shows here with light looking lean Merlot simpler 1995 with much less concentration. 1983 is bottle variable but this one was corked. Pulled out the plastic wrap in the decanter trick and it cleared the TCA away but also took some of the fleeting beautiful elegance of this favoured weather year in Ludon and all the South Medoc & Graves. Turned into "sweet cabbage" with air bubbles from rapid swirling. 1982 is brilliant indeed after 35 years and still singing marvellously! Some old leather cedar tobacco with that thrilling savoury Margaux/Graves blend of elements. Very 1982. Grilled duck breast worked so well – though Catherine's other possible choice of lamb would also have been perfect. Her Robuchon take on rich potatoes as a puree of butter brought back fond memories of the original. Pastry training and skills were so prominent too in a remarkable Vacherin with pineapple and mango so delightful with 1982 Château Suduiraut Sauternes. Big welcome back to Vancouver for the knowledgeable and talented Chef Catherine Stewart. What a treat for us diners!
Highly recommend the current vintages of 2015, 2016, and 2017 of Château La Lagune for value. Have you tried the excellent wine from this property recently?


center
---
You might also like:

Loading ...