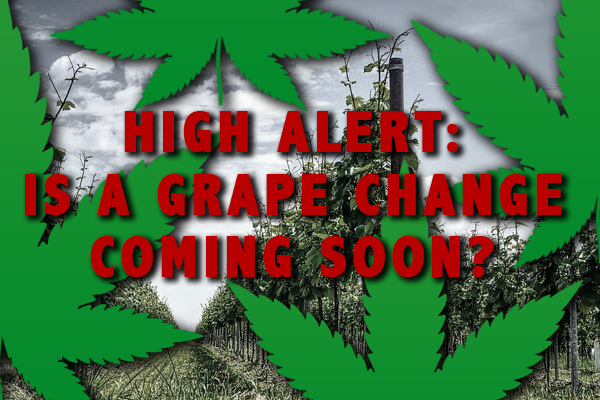 By Joseph Temple
Last month, an article in the Mail Tribune uncovered some startling statistics regarding Oregon's booming cannabis industry and the threat it now poses to the state's wine growers.  Discussing the situation in two counties located in southern part of the Beaver State, journalist Damian Mann reports that:
1. The local cannabis industry employs 439 people with a total payroll of $12.58 million while the wine industry employs 355 with a payroll of $10 million.
2. The average wage for someone in the cannabis industry is $33,731 while vineyards pay just $25,478.
Although the sample size is relatively small, a larger question remains: could the situation in southern Oregon be the canary in the coal mine for the wine industry across America as the trend towards marijuana legalization ramps up?
According to a study done in 2014, California, Washington, and Oregon – three of the four largest wine growing states – constitute approximately 94% of all domestic production. At the same time, these three states have also legalized marijuana with California representing the most seismic shift when voters approved Proposition 64 in November of 2016. And although it is still against federal law to sell and distribute the plant, anybody who looks at a map of states that have either fully legalized or decriminalized marijuana can clearly see it growing like an ink blot.
But what does this all mean for wine growers?  Well for starters, the value of real estate just went up dramatically if one switches from harvesting grapes to buds. The Sacramento Bee reports that a prime acre in the Napa Valley dedicated to making wine is estimated to be worth $365,000. However, if the same plot of land was used for cannabis production, that price tag skyrockets to a reported $1.1 million!
"There's a new agricultural product coming to town. I think we'll see some of these grapevines be ripped out for cannabis," said one expert. "If you can plant 1 acre of cannabis and make … a million or more per year, that's a hell of a lot better than vineyards."
This trend may be accelerated because some see cannabis as a healthier alternative to alcohol consumption. A 2017 poll conducted by Marist/Yahoo News found that while 75 percent of all respondents believed that wine is much healthier beverage than other alcoholic drinks, 72 percent said they believe that cannabis is much safer than alcohol. "Personal health is particularly important to older consumers. Medical cannabis is now legal in 29 states, and its association with medicine has undoubtedly assuaged consumer fears about cannabis use," writes the North Bay Business Journal.
What do you think? Can marijuana overtake the wine industry in terms of vineyard acreage? And could it compete directly with wine sales or is it apples and oranges?
---
You might also like:

Loading ...