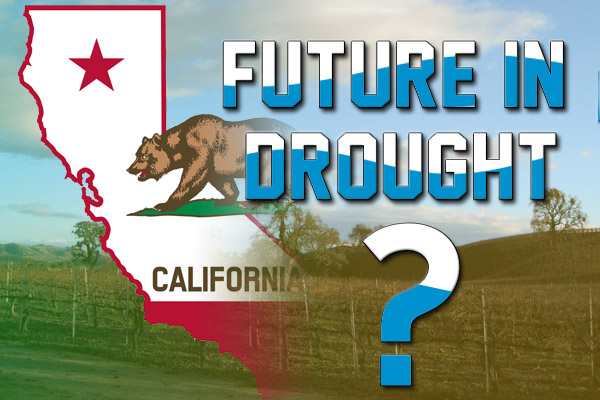 By Joseph Temple
Growing more than 200 different crops that include everything from almonds to plums, there is no denying that California is the nation's breadbasket.  So when America's leading agricultural producer experiences a massive drought that is now entering its fourth year, it's not surprising that a recent Reuters/Ipsos poll revealed that eighty-four percent believe these conditions will lead to significant increases in the price of food.  While opinions vary as to how much of a spike consumers are going to feel at the cash register, the dire situation has highlighted the need for new and sustainable irrigation methods by farmers, both big and small.
Then there's the wine industry.
Unlike avocados and strawberries that require considerable amounts of water to flourish, grapes have proven to be much more drought-resistant as vines are forced to dig deeper into the soil in search of water.  And with less irrigation, smaller grapes with thicker skins and a heavier concentration of flavors are popping up across the state. Ironically, as other crops turn brown while billions in profits dry up, many vineyards in Napa and Sonoma are experiencing double-digit growth due to the drought.
"This year's vintage could be one for the ages," said one California vintner in 2014.  According to the Wine Advocate, Cabernet Sauvignon produced in the Golden State scored an average rating of 78 in 2011—one year before the drought.  By 2013, that number had shot up to 96!
Of course, not all growers are benefiting from these conditions.   Smaller grapes are starting to plague the producers of inexpensive wines in California's Central Valley.  "While people typically think of cheap wine producers as being big firms," reports CNBC, "many of the largest producers actually buy their grapes from small, independent farmers in the San Joaquin Valley." With profits largely based on bulk quantity pricing, those selling a bottle for $7 and less are being hit hard, seeing shipments drop between 2-3% last year.  Factor in the competition from other low-priced alcoholic beverages and quite possibly, the worst is still yet to come.
The $64,000 question that still remains is when will the effects of this drought begin to wreak havoc on higher-priced wines?  Will the short term gain that Northern California is currently feeling eventually morph into long-term pain?  According to the experts, the answer is yes.  "Grapevines may be able to withstand droughts for a certain period of time, but they cannot carry on forever," said one observer.  "And they may reach their limit soon. Even though the plants can reach up to 100 feet below the ground to get water, the lack of precipitation could cause salt levels to rise and damage the vines."
Sources:
Balakrishnan, Anita. (2015, Apr 1). California drought and wine: Cheaper products hit hardest. CNBC.com. Retrieved from http://cnbc.com.
Carlton, Jim. (2014, Oct 17). California Drought Produces Tastier Wine Grapes. Wall Street Journal. Retrieved from http://wsj.com.
Koba, Mark. (2014, Apr 19). Your food, your wallet and the California drought. CNBC.com. Retrieved from http://cnbc.com.
---
You might also like:

Loading ...