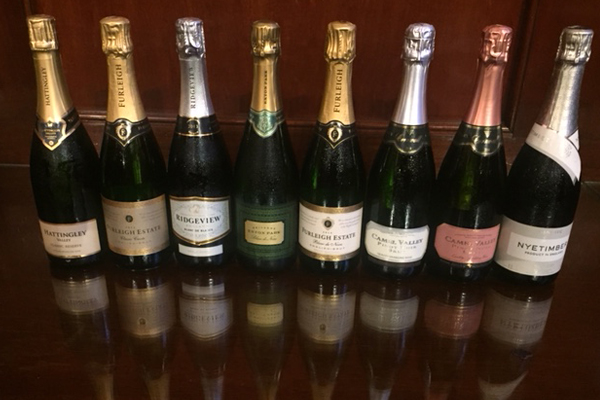 Just attended the Europe Africa Zone's well organized International Wine & Food Society London Festival May 28 to June 2, 2018 with members participating from some 17 countries. Their event app worked well all week and particularly worthy of high praise were the brilliant badges prepared in large font showing clearly Name, Branch, your allocated Coach, Dine Around Restaurant and the Number of your Walk (out of 8 interesting possible ones available). Chairman of Council Ian Nicol presented the Andre Simon Silver Medal to Stephanie Shepherd Chair of the Festival Organizing Committee for a job very well done. As always at these Festivals some spectacular venues were arranged for the functions held including Corinthia Hotel, Eltham Palace, Hurlingham Club, Merchant Taylors Livery Hall and Goldsmiths Livery Hall that added immensely to the enjoyment of the events. Check out a future one.
Many international wines from all over the world (including Austria, France, Greece, Hungary, Italy, Portugal, and South Africa) were spotlighted at lunches and dinners including such treasures as 1996 Leoville Barton (contributed by Anita and the late Ian Rushton former Chair of the EAC & Secretary/Treasurer of the Society), rich 2009 & structured 2010 Domaine de Chevalier Blanc, well chosen excellent forwardly drinking 2009 white and red Burgundies like Chassagne Montrachet Les Vergers Jean-Marc Pillot, Corton Charlemagne Louis Latour, and Vosne-Romanee Domaine Jean Grivot, old classic 2004 Gran Reserva 890 La Rioja Alta, delicious 2007 Wehlener Sonnenuhr Riesling Auslese JJ Prum only 7.5 alcohol not served quite chilled enough, and outstanding still young classic 2005 vintage Bordeaux like Canon-la-Gaffeliere, Bahans-Haut-Brion, and Climens. Kudos to Ron Barker Chair of IWFS Wines Committee and his team for choosing such appropriate insightful selections that IMHO always paired well with the food courses served.
For this scribe two outstanding tastings of English Wines were educational highlights showing their progress in quality. The first was the Andre Simon Lecture on May 29 given by celebrity wine expert Oz Clarke focusing on topical climate change and how traditional wine areas are different than in the past with the opportunity now presented to newer emerging wine regions to make their mark. This led appropriately right into a tasting of 8 English sparkling wines as shown in the attached program. The sparkling wines are being produced with lower yields (30-35hl/ha or around 2 tons/acre) compared to Champagne resulting in quite intense flavours. Hattingley has chalky soils like Le Mesnil but preferred richer Furleigh Classic Cuvee on Chablis-like limestone. My favourite was Ridgeview  with 100% chardonnay with longer time of 42 months spent on the lees but more expensive at 45 GBP. The Exton Park in Hampshire using 100% pinot noir reminded me because of the high acidity level (10.56) of the Benjamin Bridge success in Nova Scotia with potential for aging as does the Camel Valley white pinot. Their Rose is a very attractive pink colour. Nyetimber who started it all back in the nineties is now in the capable hands of winemaker Cherie Spriggs and her husband Brad Greatrix (both who studied in Vancouver at the UBC Wine Research Centre) who wisely chose to make no sparkling wines in the difficult 2012 vintage. Their 100% chardonnay using 20-30% reserve wine with 36 months on the lees impresses in that sweeter Demi-Sec style. Sparkling wines are showing great promise indeed.
The second tasting of eight English Still Wines on May 30 was presented by Dr. Bernard Lamb who compiled a useful most detailed booklet on all the English wines shown at the Festival. Try to get a copy of it. As he stated they are "never going to make a Barossa Shiraz" in England but all the wines impressed for their freshness, light body, higher acidity, and so drinkable at refreshing lower alcohol levels. The group fav was Entice the sweeet concentrated Bacchus by freezing method to get rid of some of the water from Hattingley Valley. Your scribe was impressed most by the potential shown for pinot gris. This grape is the most planted white variety in British Columbia but often can be a little "boring" coming in around 14 alcohol and not rich enough for Alsace style yet not lively enough for similarity to refreshing Italian pinot grigio. England IMHO is on the right track with 2014 Bolney (ten miles north of Brighton) fairly priced 17.50 GBP showing light (11.5 alcohol) fresh dry (1.7 RS) high acid (9,0) plus some floral pineapple notes of interest that makes a versatile food wine perfect with most seafood. It showed this even matched with smoked salmon from Forman's – a delightful tour/lunch also part of the Festival. As their vines get older they will continue to refine this but please keep up this style.
Have you been following the English wine remarkable progress?
---
You might also like:

Loading ...