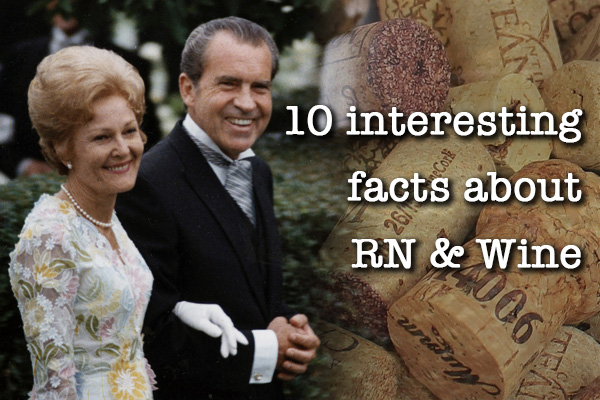 By Joseph Temple
This year marks the 50th anniversary that Richard Milhous Nixon was elected as the 37th President of the United States.  With a passion for drinking only the finest wines, not since Thomas Jefferson had there been a bigger oenophile occupying the Oval Office.  However, this particular subject remains largely unknown when discussing the Nixon legacy—until now! To learn more, have a look below at ten interesting anecdotes that may or may not change your perception of one of the twentieth century's most polarizing figures.
---

1. Nixon's interest in wine dates back to his days as a lawyer living in New York City after losing the 1962 California gubernatorial election. During this period, he would always have a bottle of his favorite vintage waiting for him whenever he dined at the 21 Club.

blank

2. Nixon was infamous for drinking first-growth Bordeaux (Chateau Margaux was his favorite) while serving his guests vin ordinaire. In some social circles, this became known as "pulling a Nixon."

blank

3. During one such incident, while entertaining ten congressmen on board Sequoia, the presidential yacht, Nixon ordered his stewards to serve them six-dollar wine while he drank a thirty-dollar bottle of Chateau Margaux, wrapped in a towel.

blank

4. Aide Alexander Butterfield would be given memos from Nixon about vintages he desired — what Butterfield described as "beaver patrol projects."

blank

5. Nixon would tell Time Magazine in 1972 that "Sometimes, for an important state dinner, I'll pick a wine. I do know something about wines."

blank

6. Although he preferred French wines, Nixon was also eager to promote his home state of California. During his visit to China in 1972, he gave premier Chou En-lai a bottle of Schramsberg sparkling wine. After this fact was revealed, the winery was overwhelmed with orders.

blank

7. According to Henry Kissinger, Nixon was known to slur his words and/or become combative and vulgar after two glasses of wine.

blank

8. To celebrate the signing of the Paris Peace Accords, Nixon asked for the best wine he had: a 1957 Lafite-Rothschild to go with his steak. But this time, everyone got to taste the wine!

blank

9. In his diary, H.R. Haldeman wrote, "Usually it's just served to the P, and the rest of us have some California Beaulieu Vineyard stuff."

blank

10. In addition to drinking wine, Nixon also consumed vodka, scotch, brandy and rum.

blank
Sources:
Haldeman, H.R. The Haldeman Diaries: Inside the Nixon White House. New York: G.P. Putnam's Sons, 1994.
Sullivan, Charles L. Napa Wine: A History. San Francisco: Board and Bench Publishing, 2008.
Reeves, Richard. President Nixon: Alone in the White House. New York: Simon & Schuster, 2002.
Page, Karen and Dornenburg, Andrew. The Food Lover's Guide to Wine. New York: Little, Brown and Company, 2011.
Will-Weber, Mark. Mint Juleps with Teddy Roosevelt: The Complete History of Presidential Drinking. Washington DC: Regnery History, 2014.
Woodward, Bob & Bernstein, Carl. The Final Days. New York: Simon & Schuster, 2013.
Zraly, Kevin. Windows on the World Complete Wine Course. New York: Sterling Publishing Co., Inc., 2006.
---
You might also like: