By Joseph Temple
"This is a masterpiece," declared Richard Nixon over the phone to Henry Kissinger.  Referring to the Prevention of Nuclear War (PNW) agreement between the United States and the Soviet Union, he and Leonid Brezhnev had just eased Cold War tensions significantly through the president's foreign policy known as détente.  And to celebrate the historic 1973 summit that moved everyone a step closer to world peace, both leaders sipped Champagne in a brilliantly orchestrated photo-op.
It was an ironic choice since neither leader cared much for the bubbly – Nixon being a Bordeaux man and Brezhnev more at home with a bottle of Russian Vodka.  But in front of the cameras, they both drank while hundreds of invited guests applauded their diplomatic breakthrough.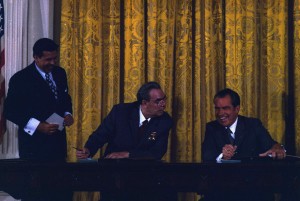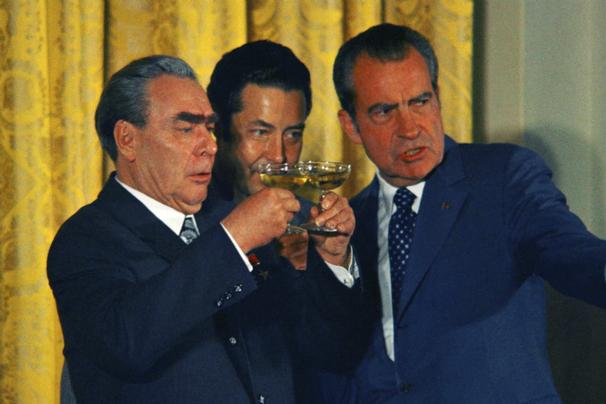 President Nixon and Leonid Brezhnev toast with Champagne after signing a series of agreements in
the East Room of the White House on June 21st, 1973. (Photos Credit: National Archives)
"All these things this week are good," Nixon told his daughter Julie.  "It gets people thinking about something else."
That "something else" was the Senate Watergate Committee.  With Brezhnev's visit to the United States, all hearings had been temporarily postponed. But as soon as he left for Moscow, they were ready to go back into full-swing, starting with the explosive testimony of former White House counsel John Dean.
However, on the other side of the world, it seemed that Nixon had committed an international Saturday Night Massacre when information about the menu from his state dinner with Brezhnev crossed the Atlantic.
A "gastronomic heresy" decried L'Aurore, a Parisian newspaper.  The crime: Cabernet Sauvignon had been served with beef, a clear mismatch according to the French.  "Most assuredly, the association of a filet de boeuf bordelais with a sauvignon wine would make a gourmet faint in France."
Adding insult to injury, the menu contained phrases in "Franglais" like "supreme of lobster en bellevue." And calling for lobster to be served with a remoulade sauce struck the French as very odd considering it was sauce only put on celery root.
It wasn't the first time Nixon's wine selection created controversy.  During the first month of his presidency, he enraged domestic wine producers by uncorking a bottle of French Champagne at an official White House function.  Since the Johnson administration, only American wines were served at 1600 Pennsylvania Avenue and for a Californian like Nixon to drink French wine in front of the television cameras was treasonous.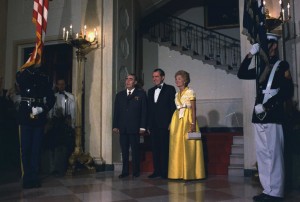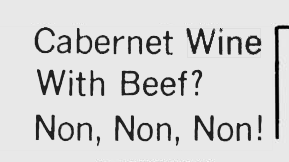 (Right) The French Press was outraged at the food and wine pairings for the State Dinner honoring
Brezhnev's visit. (Left) Brezhnev, Richard Nixon and First Lady Pat Nixon attending the dinner.
But was it French pride over all things food and wine that caused this cause célèbre?  Or was there a more conspiratorial motive for blasting this White House selection?  One American newspaper hypothesized:
"We all know that West European countries fear their influence in world affairs will diminish as the United States develops closer ties with China and the Soviet Union.  Now supposed that Brezhnev became convinced that Nixon had served him an inappropriate wine.  That surely would be a a major setback in the effort to improve relations between the two countries.  At the same time, it would enhance the prestige of France – making it appear that French advice on wine selection is indispensable to the conduct of American foreign policy."
Whether it was a well orchestrated plot by the French government to derail Nixon's policy of détente or not, a few journalists did rush to the president's defense.  "I don't know whether Nixon was exquisite in serving a Cabernet with beef because I never tried the combination," wrote syndicated columnist Andrew Tully. "Palates differ … you can advise an American on wine, but never, never a Frenchman."
So what do you think of this little Cold War footnote?  Successful gastronomic experimentation or colossal failure?

Loading ...