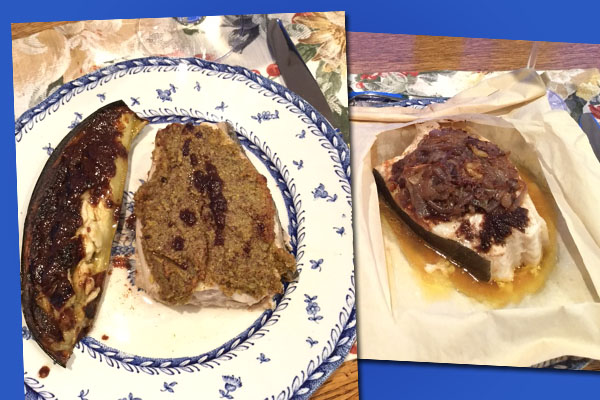 March is the start of the annual fresh halibut season here on the Pacific coast. Over the last week we have indulged with pleasure in this Ocean Wise deep water long line caught sustainable first catch doing several recipes some new and others old favourites. I remember when this fish was relatively cheap but now it is rather expensive even on an opening special sale in Vancouver for steaks at $29.90/kilo (or filets at $39.90). Worth it. Halibut is such a clean versatile white fish whose dense texture melds so well with whatever other ingredients it is matched.
I prefer using the steaks with the bone in for added flavour and moisture retention. It can be roasted, baked, pan fried or perhaps the easiest method cooked in parchment paper "en papillote" – because you want to be careful not to overcook halibut! You of course can use some other material like aluminium foil or a dim sum steamer but the principle is the same to retain maximum moisture. The result is the cooked fish with your other chosen ingredients perhaps julienned vegetables and white wine really accentuate the resulting enticing aromas particularly if you open the package right at the table. Prefer a crisp younger wine with this cooking method and the 2012 Chablis 1er cru Vaillon Cuvee Guy Moreau from Christian Moreau is so full and complex from 80 year vines but also so fresh. A heavenly matching!
An old favourite of ours is an adapted recipe for halibut with a mustard-nut crust from Jean-Georges Vongerichten & Mark Bittman's Simple to Spectacular excellent cookbook (Broadway Books, a division of Random House in 2000) as follows:
Mix equal amounts of butter & a good mustard, about 1/4 cup each. Stir in some toasted, finely chopped nuts (they use hazelnuts but we prefer pistachios) to make a paste. Spread this on top of the seasoned fish steaks (4) & refrigerate an hour or so to help the later browning of the crust.
Preheat oven to a high temperature. Butter the bottom of an ovenproof baking pan & place the fish in pan. Pour 1 cup of dry white wine around fish. On stove top, bring wine to a boil then place pan in the oven for 8 – 10 minutes depending on thickness of fish. (about 7 minutes per inch). Turn on broiler and brown the top of the fish. The butter in the crust melts during the cooking and keeps the halibut very moist. Serve the luxurious bubbling fish.
This is a super recipe with the pistachios just begging for a richer nutty chardonnay pairing. So many worthy choices including the balanced Hamilton Russell Vineyards from the Hemel-en-Aarde valley in South Africa. We found a truly outstanding one using two Meursault 1er cru from Bouchard Pere from the top rated 2010 vintage – the elegant smooth rich underrated Genevrieres and aristocratic mineral loaded still vibrantly young Perrieres.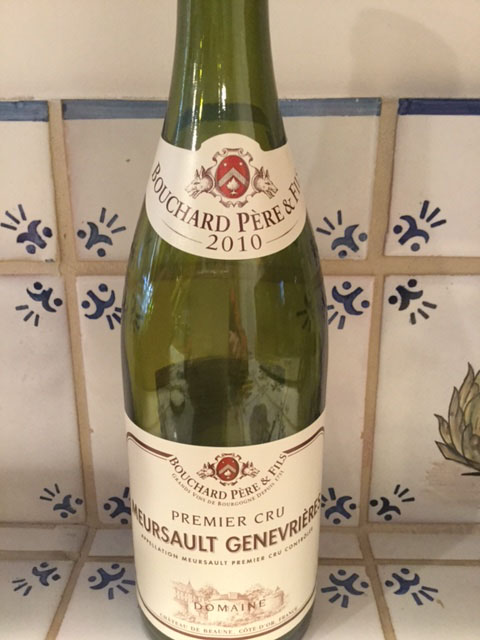 ---
You might also like: