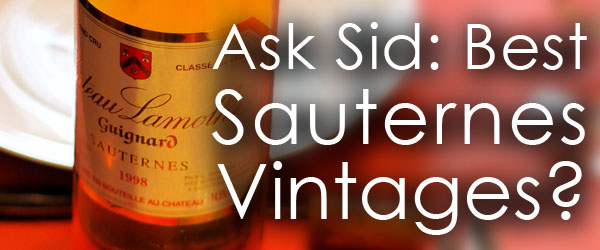 By Laurent Espitallier from France (Sauternes & Foie gras) [CC BY 2.0], via Wikimedia Commons
Question: I have collected quite a few Sauternes from different years starting with 2000 and onwards. Which vintages do you consider the top ones and best aging?
Answer: Discussed this issue last night at a dinner while sipping on the amazingly pineapple rich forwardly Chateau Coutet 1989. Middle year of the successful Sauternes trio with those early picked powerful 1990 and more botrytis with higher acidity 1988. Starting this century 2000 had a lot of rain from October 9th resulting in fragrant lighter Sauternes. The following year 2001 is so outstanding with their incredible balance! Also the 2005 has balance but less acidity though exceptional while the 2009 is ultra-rich with lots of botrytis. Some promising ones coming along from this decade to monitor. Expert Bill Blatch on his www.bordeauxgold.com is a good site to follow. Try some from your collection and make you own assessment.
---
You might also like:

Loading ...