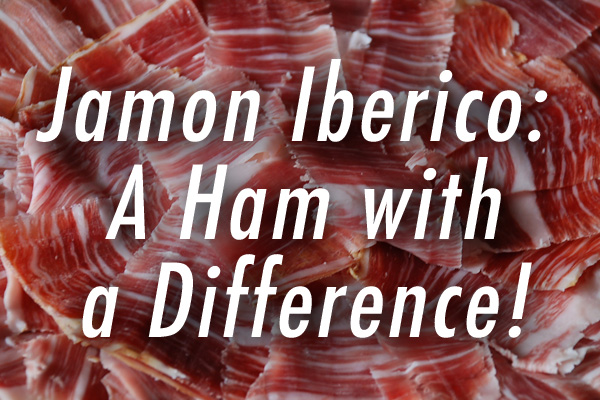 By Valdavia (Own work) [CC BY-SA 3.0 or GFDL], via Wikimedia Commons
I am generally not a consumer of processed meats – even bacon. Those produced in North America I often find too salty or smoky for my taste and I always wonder about the presence of added preservative chemicals like nitrates & nitrites. There are some exceptions of course such as the traditional peanut-fed hogs for Smithfield hams from Virginia and others. However, when I visit Europe I treat myself to some local special top quality long cured hams that are different. Great memories from many previous visits including the salt cured lard coated Prosciutto di Parma in Italy where strong breezes continually rush through open windows to air dry the meat. The pig's diet includes the whey of Parma cheese and chestnuts together with long aging resulting in a unique delicious product.
During my recent visit to Spain I again indulged in Serrano hams & Jamon Iberico hams (similar to Alentejo hams in Portugal). This time I had the opportunity in Madrid to compare various types of jamon and was impressed by the quality and the differences. Visit one of the many budget friendly Museo del Jamon and you will be amazed by the wide selection of hanging hams and the big differences in price. They range from cheap hams usually from white pigs (or cross bred with black) raised on only cereal feeds without any free range grazing (montanera) to the very highest expensive level of Bellota from Iberico black pigs that feast on acorns (bellota) in open meadows (dehesa) with a geographic d.o. location. Extraordinarily hands on attention with no added lard necessary and long curing periods (24-48 months) are so admirable. The very best can start at around 85 euros/kilogram and up. I bought 6 razor thin slices for just over 8 euros (or about $13 Canadian) and tasting it just by itself on top of some fresh warm crusty bread again delivered the uplifting excitement of sweet dry complex intense flavours of both this unbelievable cured meat with some healthy fats similar to those found in olive oil. But the more reasonably priced hams can also be excellent and perfect for a wide range of dishes. This is the place to have the most wonderful ham and cheese (prefer manchego) sandwich you have ever experienced at a very fair price. My earlier concerns of no overnight refrigeration have been somewhat alleviated but I still prefer those cleaner outlets that cover the legs with plastic wrap to help prevent the development of bacteria. I usually place my order specifically from those legs that are quite popular and have had slices already taken off of them earlier that day. For more details there is an excellent site of www.jamon.com dedicated to the fine art of ham. Enjoy the whole experience.
---
You might also like:

Loading ...