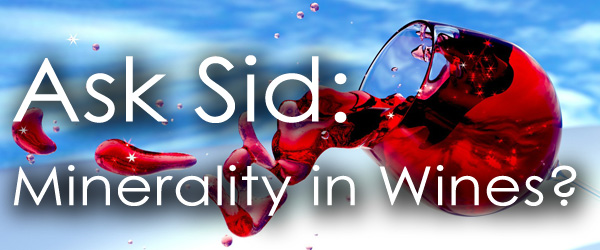 Question: I just attended a wine tasting of South American wines and the term minerality came up a lot in the discussions. Would you throw some light on this for me please?
Answer: Excellent topical question. Hard to tie down a complete definition of "minerality" but I like it when I experience it in a top Chablis grown on chalky limestone or Mosel Riesling on slate among other sites. Opinions are divided but most scientists think grapes can't absorb minerals directly from the soil for this minerality that shows in the wine. However you can find certain wines that do show specific expression of a place with a flinty, wet stones, crushed rock and similar type characteristics.
I like the definition by Laura Catena in her book Vino Argentino: "A wine with minerality has flavors that have been variously described as "flinty", "chalky", "like wet stones", and "earthy". Wines from cooler climates, in particular, tend to have a mineral mouthfeel; the grapes have higher acidity. Minerality is often used in reference to the white wines of Burgundy or the Loire Valley. In Argentina, minerality is found in the cooler districts within the Uco Valley, such as Gualtallary in Tupungato and Eugenio Bustos in San Carlos."
For more details an excellent review is "Rescuing Minerality" posted by Jamie Goode on his website.
---
You might also like:

Loading ...