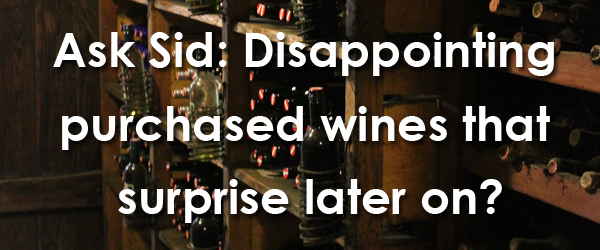 Question: Do you have an example of a wine you purchased that disappointed you but later with cellaring surprised you?
Answer: Great question! Lots I could share. This often happens with the pinot noir variety which doesn't always develop in a straight line of maturity. Particularly high acidity red Burgundy vintages like 1972 & 1988 with time now have developed into some marvellous fresh delicious bottles. More recently in Burgundy maybe the irregular still tart 1996 and the smaller crop 2010 may be similar – definitely the latter has fruit acidity balance for the future. A recent example from this month is 1975 Chateau Montrose from that very hard tannic vintage. Cellared and drank too early many disappointingly dry austere bottles which definitely needed food. Many 1975 Bordeaux just don't have enough fruit to out-last those tannins. However, even though it may not be the 100 point 1990 this 1975 now at 40 years of age shows improved old style complexity of true St. Estephe terroir from that over 70% cabernet sauvignon dense fruit less hidden by the strong tannins which are starting to mellow. Surprise or at least patience rewarded!
---
You might also like:

Loading ...