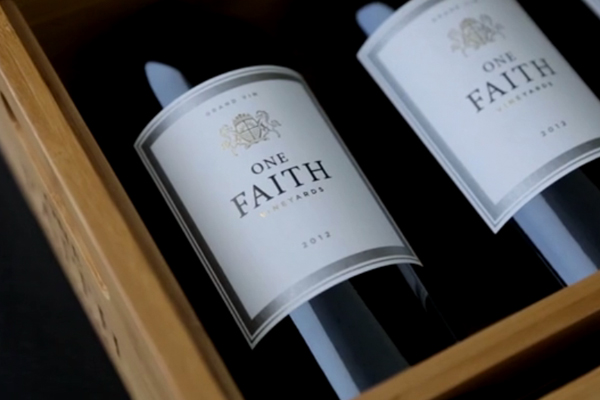 Photo credit: www.onefaithvineyards.com/
Canada is developing a growing reputation for some most unique top quality wines. Riesling, Pinot Noir, Cabernet Franc, and Syrah are among the most respected grape varieties presently being used. Various blends are becoming increasingly popular too but the old stand-by of the Bordeaux mix is still the most prominent. In fact one of them is now the most expensive Canadian wine: 2012 One Faith Vineyards Grand Vin – $495 for 3 bottles in a remarkable smooth wooden case! www.OneFaithVineyards.com
Proprietor Bill Lui has a dream to create a "First Growth" world class wine from grapes grown in 4 special vineyards on the Black Sage Bench of the South Okanagan Valley in British Columbia. Their first vintage was harvested October 25-November 3 blending 45.4% merlot, 30% cabernet sauvignon, and 24.6% cabernet franc producing only 144 cases. Lots of experience behind this new project from pioneer consultant Harry McWatters, viticulturalist Richard Cleave who planted and managed this site since 1992, James Cluer MW, and ex-Napa winemaker Anne Vawter. The yields are impressive between 1.1 to 1.8 tons per acre because of winter pruning and summer green harvest thereby concentrating the juice. Micro fermentations of uncrushed berries in new French oak barrels rolled on designed racks to achieve best maceration was a technique that contributed to the overall success. They admirably drew off 10-15% saigne from each fermentation to make a Rose bottled and sold separately with all the profits going to Canadian Breast Cancer Foundation.
After extended 20-22 months aging in new and 1 year old French oak barriques the final blend selected was not fined or filtered. I was impressed by this first effort showing wonderful freshness from the sweet mineral fruit blend with balanced smooth textured elegance  Appreciated that they backed off from what could have resulted in a jammy over extracted result from this region. Launched from the good vintage conditions in 2012 I admire their set goals knowing they are on the right track to making their dream a future reality.
---
You might also like:

Loading ...