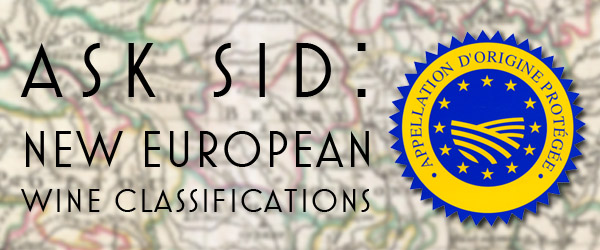 Question: For the first time I have seen a new French appellation marking: protegee. The actual appellation mentioned on the label said "Appellation Saint Joseph protegee". What can you tell us about this new marking?  Why does it say protected all of a sudden?
Answer: Good timely question. You will be seeing more of this on the labels of the new wines arriving at your local wine shop. Most of us are familiar with the wine appellation systems in France for specific locations defining where the grapes are grown and the wine is produced. Starting with 2012 the European Union has intervened and these systems are now revised. For example there is no longer any wines labelled VDQS. There now are 3 main categories:
1.      VIN DE FRANCE Basic wines formerly called Vin de Table. Quite a general name lacking any specific location but enticing to use because easier to comply with than the stricter regulations of the 2 higher categories. May find more wineries using this including the new natural wines. We should all encourage more information on the back label from the wineries to help the consumer understand where the wine grapes are actually grown.
2.      INDICATION GEOGRAPHIQUE PROTEGEE (IGP) Basically replacing the former Vin de Pays ("country wine") such as the old Vin de Pays d'Oc from Languedoc-Roussillon and the like.
3.      APPELLATION D'ORIGINE PROTEGEE (AOP) These are the very top wines starting in 2012 such as your Saint Joseph Syrah from the Northern Rhone which are protected (protegee) and basically replacing the former Appellation d'Origine Controlee (AOC) designation.
---
You might also like:

Loading ...