Last week @WinesofBC held their annual Media Preview of Vintage 2022 for #BCWine. An excellent panel of winemakers from across BC presented a detailed look with a representative tasting. Some encouraging wine examples were shown by the ripe enough yet still fresh balanced 2022 year. It confirmed the earlier Vintage Report released by @WineGrowersBC of average to above-average yields from a cool early start to a warm sunny harvest. When you look at our esteemed IWFS Vintage Card ratings you will note that the top 7/7 ratings are given to only 2020, 2016, and 2014 followed by 6/7 for 2018, 2017, 2015, 2013, and 2012. Too early yet for their 2022 score. In my humble opinion, our summary Chart as expected doesn't tell the full story of many diverse vintages across geographically widely separated wine regions. Lots of variation by region and especially by producer. There is a more interesting breakdown Chart attached at WineBC.com by Wine Growers British Columbia divided into helpful categories of Temperatures, Rainfall, and Crop Yields. Let's take a closer look:

TEMPERATURES:

Cooler: 2010, 2011, 2019 – lighter less ripe higher acidity but aging well
Moderate: 2012, 2016, 2017, 2018, 2020, 2022 – better balance structure
Hot: 2013, 2014, 2015, 2021 – richer riper softer fruit

RAINFALL:

Low: 2013, 2014, 2015, 2019, 2021
Average: 2011, 2016, 2017, 2018, 2020, 2022
High: 2010, 2012

CROP YIELDS:

Low: 2010, 2019, 2020, 2021 – three shorter crops in a row before 2022
Average: 2011, 2012, 2013, 2014, 2015, 2017, 2022
High: 2016, 2018

Another outstanding report worth studying has been prepared by LE VIEUX PIN WINERY assessing vintages in the South Okanagan from 2022 back to 2005. October 2022 was "one of the few warmest Octobers on record". Admire their point that "Some vintages are all about grace, while others favour power and of course, there are ones where they showcase that fine balance of grace and power." They note the Growing Degree Days with 2015 at 1764 (just behind hottest years 1998 & 2003) plus most helpful vintage style and when to drink information. Recommended.

You will be pleased to know that some older wines served at the Media Preview Reception showed very well. Especially noteworthy were balanced 2020 Chardonnay from O'Rourke Family Estate, elegant pure 2020 Pinot Noir from Blue Grouse Estate Winery, and ripe Similkameen fruit in 2014 Meritage Vanessa Vineyard. Vintages matter! For sure, climate change (2021 heat dome in BC) plus increasing wildfire smoke damage (Blue Mountain Vineyard decided not to bottle any 2021 vintage due to grape contamination) are becoming more important factors in all bottled wines. Caveat emptor. Your scribe's current advice is to remain open-minded about your vintage assessments for British Columbia wines – as well as those from other regions around the world!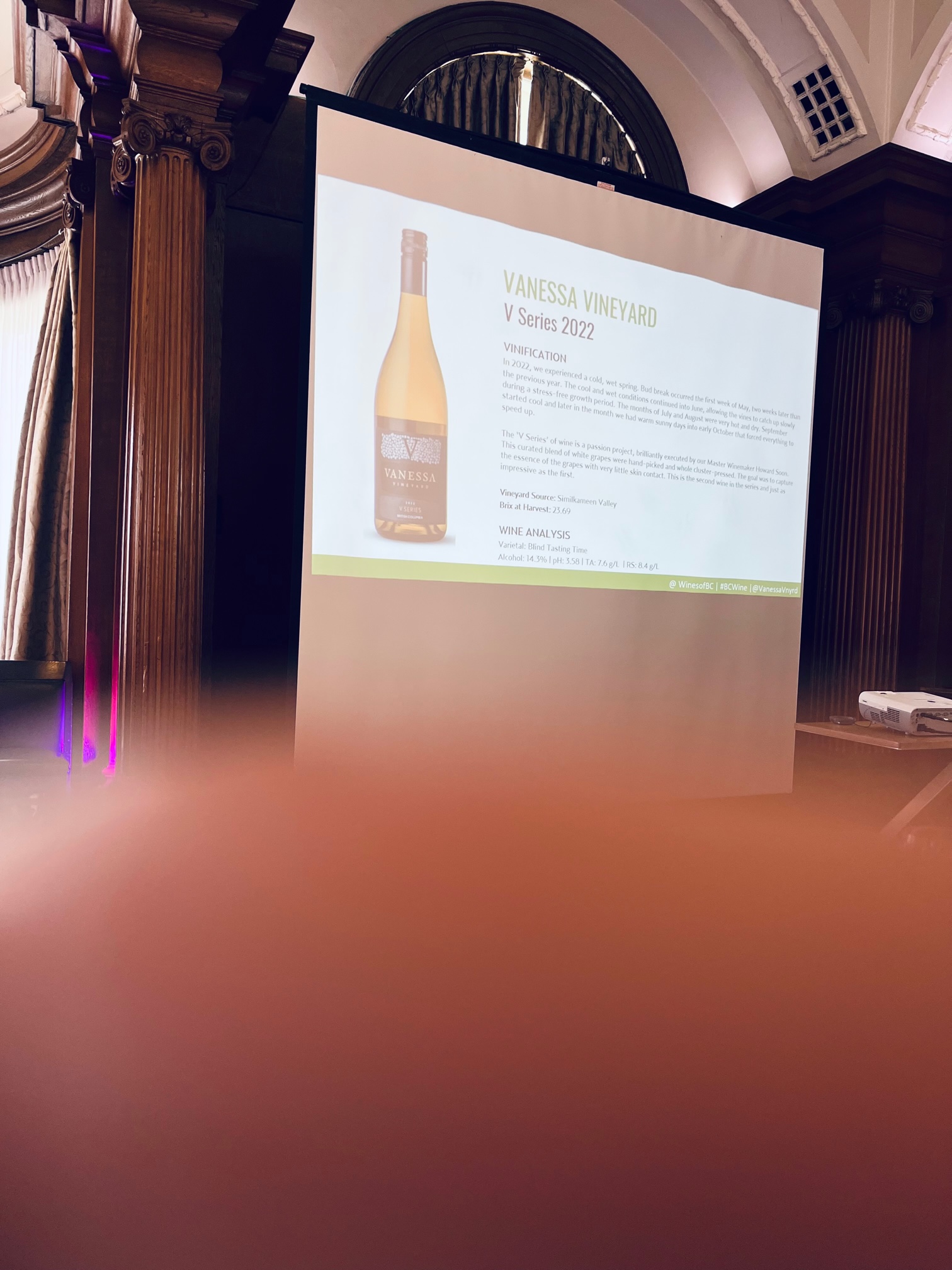 ---
You might also like: