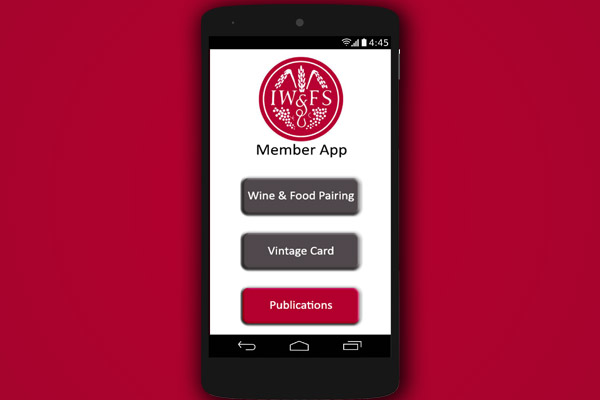 Finding the best wine pairings to go with food has been a long time pursuit of The International Wine & Food Society. It all started with our Founder Andre L. Simon and his key publication of "Partners – A Guide to the Game of Wine & Food Match-Making". This booklet is still a most highly sought after reference work for valuable classic
suggestions always worth exploring. Over the years since then there have been many new wine regions discovered and many more exciting ideas developed for interesting food & wine matchings. Your scribe tried nearly 10 years ago in Vancouver on September 13, 2012 by presenting the Andre L. Simon Lecture referenced here to revisit and
update some of the more current thinking around the world on this fascinating topic. One of our goals (not fully yet realized) was to get more of your input on your cherished wine and food pairings to share with all of us. Still hopeful we can make more progress in this regard.
The good news is that there is an IWFS APP for members with lots of very valuable information including our updated Vintage Card, Monographs, and other educational Publications & Videos. The newest addition to the member APP (and a good reason for joining our Society to get access) is a detailed Wine & Food Pairing Guide as a result of dedicated research by Stephen Hipple (Council Bluffs, Okoboji, & Omaha, Nebraska) and his team. It is a formidable first effort to be revised and updated in the future with your input but already is fairly extensive. You can search to pair by wine or pair by food. There are some 33 grape varieties listed (including sake) from Barbera
to Zinfandel (red!). There also are general choices to search by food including Cheese, Fish & Seafood, Meat, Poultry, Game, Asian/Indian, Vegetarian, Dessert and Other (burritos, pizza, nachos, smoked foods, etc – even cigars!). The Cheeses section is so admirably extensive with a plethora of around 60 types listed from Asiago to Zamarano (Spanish sheep milk). Very thought-provoking work with all the amazing detail of ideas. As an example under Fish & Seafood there is a listing of Lobster prepared 4 different ways (Plain, Grilled, Roasted, With
Butter) each with a different wine grape selection. Highly recommended. Members check it out asap. Non-members consider joining IWFS to have the use of this most valuable culinary tool. Congrats Stephen and very well done indeed! Andre Simon would be proud.
---
You might also like: