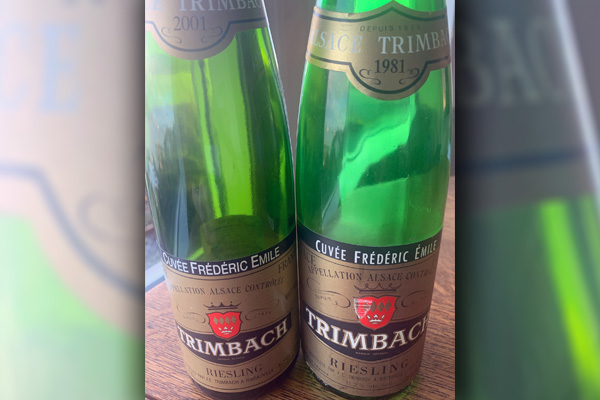 Alsace is a fascinating wine region with a long history of dedicated winemaking families. Your scribe has been a devoted fan of their wines since way back in the seventies. Got quite familiar in identifying the different grape varieties grown there through the availability in Vancouver of Alsace wines particularly from Hugel (rich full style)
and Trimbach (balanced dry style). Always admired the clear definition shown in the wines produced from the different varieties and on visits to the region successfully passed their fun tasting test to become a member of the Confrerie Saint-Etienne. This northern region is situated in a valley between the Vosges mountains and the Rhine Valley and is much drier and warmer than most people recognize. Most of their wines are reasonably priced, friendly drinking young, and match so well with food. Yet there is another level of key sites recognized since the 9th century but formalized by the INAO in 1975 now with 51 AOC Alsace Grands Crus (only 4% of the region). Interesting to examine the dominant geological soil characteristics of each of these vineyards. Note that only Rangen (check out Clos Saint Urbain from Zind-Humbrecht) in the most southerly area of Thann has volcanic soil.
Riesling is always a favourite of mine among the 4 varietals (with a few exceptions) that are allowed Grands Crus status with Gewurztraminer, Muscat, and Pinot Gris. Collected and enjoyed lots of Alsace Riesling over the years. Tried whenever I could the top standard of Clos Ste Hune from Trimbach, a tiny 1.67 hectare plot of Rosacker on "dolomitic limestone" that rewards a deep, full, most complex and ageable treasure. Lucky to try some memorable bottles of Hune with avid collector Jean Joho of Everest restaurant Alsatian cuisine in Chicago which just recently closed. More available to me were bottles of Cuvee Frederic Emile Riesling from Trimbach, particularly the 1981 vintage that I purchased throughout the eighties at $11.95/bottle. In May 1989 BCLDB put the remaining slow moving inventory on sale for $7.95/bottle. Your scribe astutely bought those 62 bottles and has been delightfully monitoring the progress of 1981 ever since. It is composed of 2 Grands Crus at Ribeauville of Geisberg (marl-limestone-sandstone) & Osterberg (marl) from high elevation steep S/SE exposure of older vines. Trimbach also has another leased site for making Geisberg Vignoble du Couvent de Ribeauvillé (check out 2009, 2016, and 2019). An outstanding Riesling from Hugel is Jubilee 2001 (own vineyard 100% Schoenenbourg Grand Cru from Riquewihr) called by the late Etienne Hugel their "best one since 1990". On January 28, 2022 we drank our last bottle of that 1981 cache at 40 years of age compared with the same vineyard & producer of top vintage 2001 at 20 years. These paired so well for courses of smoky roasted eggplant with ricotta wrapped in shredded phyllo pastry (kadaifi) plus "gourmet" Bretagne sardines Vintage Year 2015 by Rodel (bought in Paris) with fresh dill potato salad. Both worked magically. 2001 was 12.5 abv fuller richer floral ginger mineral notes while 1981 was an easy lower brilliant 11.2 abv so bright elegant petrol well structured acid vibrancy. Perhaps some of the earlier 62 bottles had more fruit left (if you prefer that) but this last one is really lovely now – ethereal and so beautifully drinkable. Wish we had more bottles left. The Trimbach website says "potential is for aging 20+ years". They might want to change those notes to read at least "40+ years"!
---
You might also like: