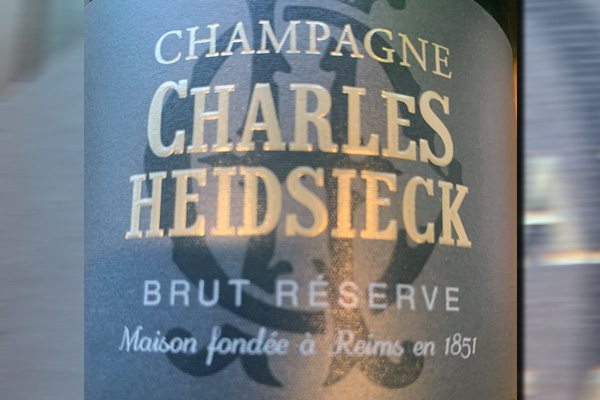 Big fan for decades of Charles Heidsieck (CH) bubbles. Used to buy "Tri Packs" of Brut Reserve listed for $170 Canadian on sale in August 2000 for $91.95 at BC Liquor Distribution Branch (while across the border selling at $45-47 US per bottle). These comprised 3 bottles of early Mis en Cave from 1993, 1995, and 1996 as a new concept and the quality recognition was then flying under the radar. Enjoyed drinking so many of these and became a convert for the brand. Also because your scribe always liked the texture of super cuvee Blanc des Millenaires from the very beginning of the 1983 vintage followed by only 1985, 1990, 1995, 2004 and presently the 2006. Respect how their website captures the contributing 5 major crus to this Blanc de Blancs superior blend as follows:
"Oger: lushness and structure
Mesnil-sur-Oger: balance
Avize: minerality
Cramant: complexity
Vertus: freshness and floral side"
Owner Remy Cointreau sold CH in 2011 (including Piper-Heidsieck) to EPI (Societe Europeenne de Participations Industrielles) under chair Christopher Descours who has revived this luxury brand. See this Blog reference of CH & P-H of March 30, 2020 here. The classy house style has continued and improved under current chef de cave Cyril Brun (since 2015), managing director Stephen Leroux, and team in those historic Crayeres underground cellars. Really admire the classic 2012 current vintage Brut Millesime (60PN & 40C Mise en 2013 disgorged 2020 with 8 grams dosage) so fresh, balanced and structured for further aging while already approachable now. Interesting to note two first protective consistencies used for improving CH 2012 with a jet injection of .1 microlitre of water after disgorgement to have resulting bubbling foam expel any oxygen plus then resealing by Diam's new Mytik cork closure.
However for many Champagne consumers the big deal to know about is the fantastic wonderfully mature toasty complex regular Brut Reserve. Back label announces the key as "40% of reserve wines aged 10 years on average" This sparkler is almost like a top cru rich toasty aged white Burgundy with fine bubbles yet more reasonably priced. Every bottle is so delicious and consistent but sometimes with different nuances depending on the helpful "Mis en Crayeres/Laid in chalk cellars date". They certainly all show that great house signature of "complexity, precision, depth, and creaminess".
Over the Christmas 2021 weekend we enjoyed the last bottle from our oldest cache being mise en 2009 and disgorged 2015. Best one yet and pure luxury pairing with turkey! Over the past several months we have tried many other dated bottles from mise 2011 was disgorged 2017, 2013/2018, 2016/2019, and 2017/2020 and all have been excellent but of course the younger bottles were even fresher if you prefer that timing. Please note that they have reduced from 6 years on lees to 5 and now currently at 3 years. A quality Champagne brand that definitely is worth checking out.
---
You might also like: