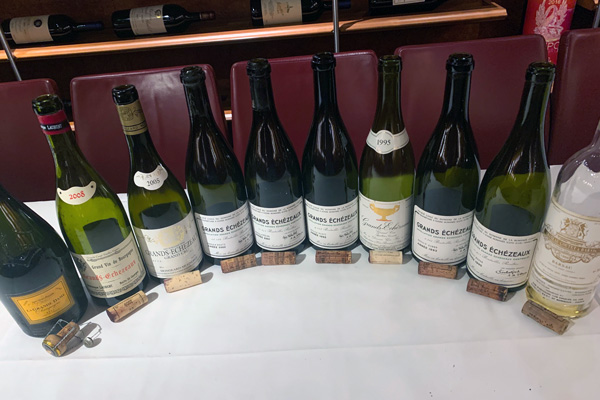 These days It is indeed a rare treat to taste a bottle of Grands Echezeaux from Burgundy. It was much easier in the last century at lower prices to access bottles which we fortunately did. Not any more. To drink and compare 8 examples from 7 vintages featuring 5 from DRC is truly a once in a lifetime wonderful experience. Not sure about the proper spelling as DRC uses no hyphen but you often see the hyphen more often as Grands-Echezeaux in the other 3 producers here. Probably both are correct. In the early wine education days for your scribe we all assumed Grands meant just that being smaller and grander than the neighbouring Echezeaux. Certainly for DRC Grands Echezeaux in most vintages seemed more concentrated than their Echezeaux (but perhaps not in 1986). Presently at only 9.13 hectares (DRC has 3.53 ha) it is scarce at roughly 1/4 the size of Echezeaux at 37.69 ha (DRC has 4.67
ha) which has many more producers to seek out. Though generally Echezeaux may be more variable with differing terroirs there are also "grand" examples including such as 1990 Echezeaux from Emmanuel Rouget among many others. Actually it is IMHO unfortunate wording to call one Grand Cru Grands Echezeaux and the other Grand Cru merely Echezeaux. So be it.

On July 20, 2021 at Blue Water Cafe the Vancouver Group of 8 enjoyed Grands Echezeaux with a dinner menu attached. The bookends were rather impressive too with that outstanding acidity of the 1988 vintage showing well in both Champagne and Sauternes helping keep the candied lemon zest of La Grande Dame & apricot notes of Ch. Coutet Barsac fresh at 33. Here are the eight wines with some brief comments:
2008 GRANDS-ECHEZEAUX DOMINIQUE LAURENT: Lighter paler look with brick tones. Lovely balanced fruit acidity with some oak showing in a floral style but clean in a vintage that was so variable that crop sorting became important. Rather good.
2005 GRANDS-ECHEZEAUX DOMAINE MONGEARD-MUGNERET: Comes with the baggage as that outstanding 05 vintage but holds the reputation well. Dark deep red with excellent big rich full fruit structured extract. Perhaps austere right now but will benefit from more time to develop tertiary bouquet complexity and round out. Well done. Patience.
2002 GRANDS ECHEZEAUX DOMAINE DE LA ROMANEE-CONTI: DRC uses numbered bottles #06672 out of total production of 13,134 bottles. Similar lighter look as the Laurent but with a browner rim. Aromas from this are strongly vegetal and musty. Definitely some TCA corkiness there as well. Disappointing unlucky start for DRC from this usually excellent most charming vintage.
2001 GRANDS ECHEZEAUX DOMAINE DE LA ROMANEE-CONTI: Bottle is #05138 out of 10,475. Brighter younger look though lighter with a watery edge. Shows the structure of stems from using whole bunch fermentation but is so clean, elegant and stylish. Wonderful balance with acidity, freshness, plus exotic spiced raspberries. Underrated vintage shows the possibility of top grape selection resulting in classic G-E terroir. Clearly showing the best of the first flight of four here matching magically with the mushrooms and cherries for the grilled lobster.
1995 GRANDS ECHEZEAUX DOMAINE DE LA ROMANEE-CONTI: Bottle is #01377 out of 9,253. First of three good vintages in this second flight to go with truffled beef is exciting. Lighter again but so delicately perfumed with Asian spices and tastes of those classic almonds. Delicious now but finishing with drier tannins. On a current plateau of sublime enjoyment.
1995 GRANDS-ECHEZEAUX DOMAINE GROS FRERE ET SOEUR: Interesting comparison to same vintage of DRC. Quite different as one guest said "a Right Bank wine in a Left Bank tasting". Avoid chaptalization here but use a controversial old procedure of a concentrating machine technique instead. Shows somewhat in the surprising more evolved unique result. Not the best "place" definition but some some smoky bacon notes. Lots of new changes taking place here in the family holdings for much improved winemaking 2018-20 and bright outlook for the next decade. Also look out for excellent G-E from Georges Noellat & Domaine d'Eugenie!
1993 GRANDS ECHEZEAUX DOMAINE DE LA ROMANEE-CONTI: Bottle #01009 of 8,385. Least production and darkest by far of this flight. Dramatic impressive full powerful depth here. Shows those typical muscles of G-E. Solid gamey fruit yet seems coarser with less finesse than 2001, 1995, or 1990. Divided opinions on this wine with some of us feeling 1993 is not the most consistent year for DRC.
1990 GRANDS ECHEZEAUX DOMAINE DE LA ROMANEE-CONTI: Bottle #05956 of 10,972. All DRC showed 13 abv except this one at 13.4. Oldest but also clearly the best quality of all these 8 G-E. At another much higher level for key aromatics of superb Asian-tea and exotic spices. So vibrant but still has layers of seductive velvety complexity for interest, admiration, and study. Ripe (but not baked) sweet strawberries with a tiny dip of artisan Valrhona darkest bitter chocolate. A lesson in how to age gracefully with class. Something so pure, elegant and stylish here that is impossible to describe. What a finish to a memorable evening!

---
You might also like: