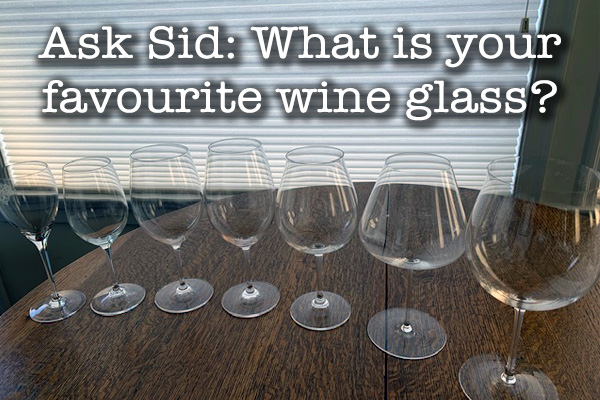 Question: What is your favourite wineglass?

Answer: I am sure many of you just use an all-purpose glass for all your wines. There now so many good choices out there to serve the purpose including several from the Riedel Vinum series or Spiegelau Universal. I am fortunate to have quite a wide choice of glasses to use. Here is a photo of just seven of them that get a lot of use starting from the left:
1. Champagne tulip (not a flute) for Sparkling – especially Champagne.
2. All-purpose – especially good for whites or Chianti style
3. Bordeaux style wines (though for very old bottles prefer a smaller glass)
4. Syrah style wines
5. Pinot Noir – especially younger New World
6. Zalto versatile one for best Burgundy and Piedmont
7. Gigantic Riedel one for younger aromatics
Also like using the new Zwiesel Sensory one designed by Roberto Conterno of Giacomo Conterno winery similar to the Zalto but with a wider bowl base accentuating the aromas. Excellent of course for Barolo!
What is your best wine glass choice?
You might also like: