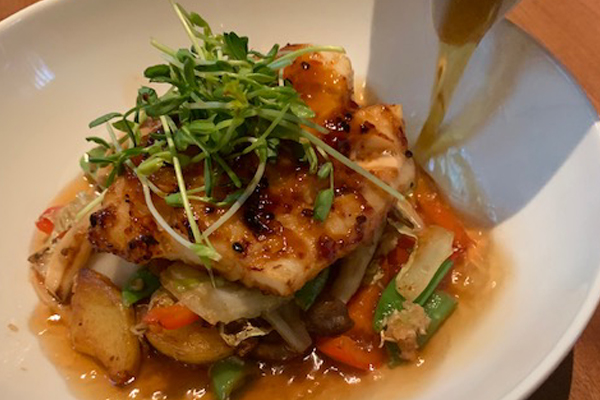 Chain restaurants usually conjure up consistency but often also rather stuffy standard menus. That is not the case in Canada and especially British Columbia. They have been leaders on the Vancouver dining scene for some time now. First it was Earls with 66 locations including 10 in the USA showing the way as perennial Chain restaurant winner at the Vancouver Magazine Restaurants Awards. More recently it has been the Cactus Club Cafe with some 30 locations spread across Canada leading the way with innovative dishes of star Chef Rob Feenie. Currently there is another contender JOEY Restaurant Group (with their Top Employer Award) that has been slightly under the radar till now but moving more into the spotlight as a rising star with 27 locations expanding this week with the largest street level patio in downtown Los Angeles at 7th & S Hope Street with Chef Zach Helm. Credit goes to the Fuller family who are the driving force investors in all three of these leading chains. Lots of other emerging chains too like Browns, The Flying Pig, Nuba, and check out Tacofino who has Michelin-starred chef Stefan Hartmann with their upscale Ocho in the trendy Mt. Pleasant neighbourhood of Vancouver.
Dined last week at Joey Bentall One and was blown away with the overall hospitality of the well trained staff. Our server Jessica was alertly on the ball and Group Sommelier Jason Yamasaki is a leading knowledgeable wine guy. Really like the clever short list of wines by the glass & the bottle he puts together which are diverse fairly priced and manageable for the diner. The 4 different sensible bubble choices are a very good example of this. Not surprised to see Jason is first again in collecting and pouring the brand new hot demand product release of delicious 2017 Chablis 1er Cru Vaillon Cuvee Guy Moreau. The Chef brigade is led by the talented Executive Chef Chris Mills (a winner of our IWFS Scholarship decades ago when he first started out at Diva at the Met) who has taken his team to the James Beard House on three occasions. Now on board is the amazing winner of Top Chef Canada Matt Stowe as Executive Director of Culinary raising the bar even higher. Really admire the special courses they have at their showcase location at Bentall One – especially that remarkable Sake Glazed Sablefish with wok-fired vegetables, fingerling potatoes and dashi broth! Their Chicken Parmesan is always consistent but you have to try some of the best starters in the City – that Hummus with dill & olives has true tzatziki and winning crispy pita.
Look at some Chain restaurants in a different light. You will be surprised at the high quality innovative dishes. How are Chains doing in your part of the world?


center
---
You might also like: