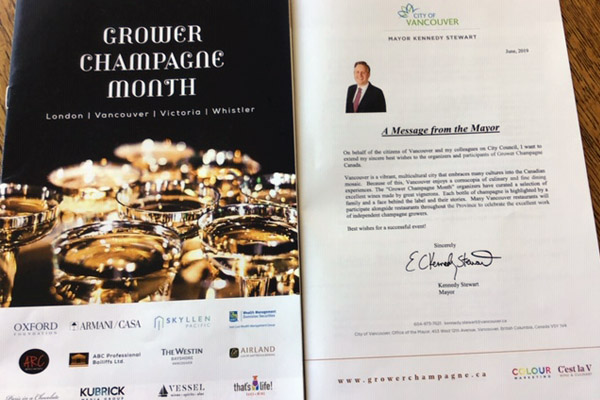 Seeing many more unique Grower Champagnes in the marketplace these days. We are celebrating this June "Grower Champagne Month" in Vancouver with such a diverse selection. Congrats to Van Doren Chan and her team with all the cooperation of the wine agents for spotlighting these independent grower bubbles. As Vancouver Mayor Kennedy Stewart aptly states: "Each bottle of champagne is highlighted by a family and a face behind the label and their stories." Recent visits to Paris by this scribe brought home the increasing use of these for by the glass wine programs in restaurants as a popular aperitif. Look for initials on the label of especially RM for Recoltant Manipulant (95% estate fruit) and CM Cooperative Manipulant (or less seen MA, ND, RC, and SR) as opposed to most common NM for Negociant Manipulant of the bigger houses. Many producers now make wider use of the softer Pinot Meunier grape variety (some even 100%) and are so reasonably priced that almost everyone in those restaurants is ordering a glass. Look for it. Some are grown in the more southerly warmer region of Cote des Bar (Aube) resulting in a more forwardly style perfect for earlier drinking. Impressive how many are now sustainable, organic and even biodynamic while using lower dosage even down to Extra Brut.
The attached list is worth exploring. Enjoyed tasting them all but these five were so well balanced and showing so delicious:
1. Le Mesnil "Blanc De Blancs" Grand Cru from Le-Mesnil-sur-Oger. A go to standard in the BC market for best quality value (QPR) of $60. Grand cru rated Cooperative chardonnay grapes with a sweeter dosage close to 10 but balanced by lovely acidity presenting a classic rich full smooth toasty attractive style.
2. Larmandier-Bernier "Latitude" Blanc De Blancs Extra Brut. Used to be called Tradition but now Latitude to showcase the charming round riper terroir of the southern portion of Vertus. Sees wood and uses some 40% of reserve wines in the blend plus 4g/l dosage. Excellent intensity by this top producer selling at $80.
3. Rene Geoffroy "Cuvee Empreinte" 1er Cru Brut 2009. Winery in Ay using earlier ripening plots of 1er cru village Cumieres with 75/20/5 PN/PM/C first juice pressing only with 6 grams dosage but no malo in this hotter vintage results in a classy fresh strawberries value at $83.
4. Eric Rodez "Cuvee Crayeres" Grand Cru. From Ambonnay a well known pinot noir region using 60% for structure but adds 40% chardonnay for elegance & finesse. Uses small oak barrels vinificiation for 20-25% adding several previous years of reserves to deliver a floral fruity minerally style at $90.
5. Jacquesson "Cuvee 741" Extra Brut. Based on 2013 vintage with 57% chardonnay, 22% pinot meunier, and 21% chardonnay with lots of vin de reserve disgorged November 2017 with 2.5 dosage. Admire this producer a lot whose sustainable vineyards are among the best maintained. Always delivers from the first one 728 (base year 2000) with wonderful fresh deep expressive complexity for $100. Recently enjoyed their 1996 Avize one of the very top bubbles of all time!
A short PS toast to one of my fav Champagne producers Vilmart an RM from 1890 in Rilly-La-Montagne now at the top of their game with the 5th generation of Laurent Champs. Both of their organic low yielding 1er cru Brut elegant bubbles were outstanding as usual: "Grande Reserve" $90 & older vines "Rubis" most expensive of all the samples at $120 but both well worth it. Perfect food wines too that age so well. Ferment all their juice in oak from barrique size up to large foudres with no malo. More reasonably priced "Krug" wannabe and a real winner itself!
Do you have a Grower Champagne you like and recommend?


center
---
You might also like: