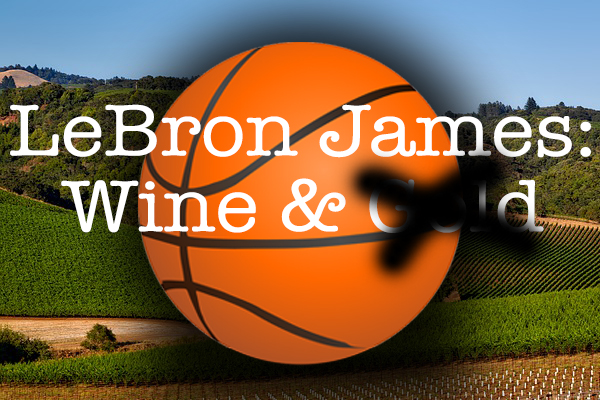 By Joseph Temple
Earlier this month, all of the teams in the NBA's Eastern Conference could breath a little easier when it was announced that LeBron James had signed a lucrative four-year, $154-million-dollar contract with the Los Angeles Lakers.  A three-time NBA champion as part of both the Miami Heat and Cleveland Cavaliers, 'King James' proved to be a fine wine this year as the future Hall of Famer carried his team to the finals against the Golden State Warriors.  And despite leaving the wine and gold of Cleveland for sunny California, he certainly won't be giving up the wine part as LeBron is now less than seven hours away from America's most prestigious vineyards.
For those who follow James on social media, it's no secret that he LOVES wine. Confessing that he wasn't much of a wine guy until he turned 30, LeBron has since gone on to be a passionate oenophile, posting numerous pictures on his Instagram under the hashtag #VinoChronicles.  Over the past three years, the newly signed Laker has tried many bottles including Corton-Charlemagne Grand Cru 2013, Tenuta San Guido Sassicaia 1990, and 2010 Colgin "IX Estate" Napa Valley Syrah. With a preference for California reds, he has also warned his followers online, "Don't talk to me about wine like u know it if you really don't know what you're talking about. Seriously! Thank you!"
Judging by that statement, it shows that LeBron is truly passionate about wine, spending his hard-earned money on bottles that easily cost anywhere from $300-$500 and more. According to DLynn Proctor who was featured in the 2012 film Somm, "LeBron's got somebody really good in his corner telling what to drink."  Indeed, as can be seen in a story reported back in 2015 when after losing a bet with Warriors' forward Draymond Green over who would win between Ohio and Michigan in football, James sent him two cases of 2010 Silver Oak Cabernet. "He knows a young guy like me can't afford it yet, so he took care of me," said Green.
"I wanted to learn about it," said James in one courtside interview. "Everybody was telling me how great it is and the different regions not only here in America but also in Italy, in France, in so many different places."
And it appears that while playing for the Cavaliers, he spread his cumulative knowledge to his fellow teammates. According to a fascinating article on ESPN.com highlighting NBA players growing interest in wine, Cleveland center Kevin Love said James is like "a supercomputer" when it comes to grapes while Dwyane Wade noted, "when we go out, it's Bron, what wine we getting? You ask most of the guys on the team who orders the wine, we leave it to him to order."
So if you live in Northern California wine country, be on the lookout as the 2018-19 season kicks off in October—especially whenever Los Angeles plays either the Warriors or the Kings! LeBron has been known to tour many wineries in Napa so you might just see the Laker (and future member of the International Wine and Food Society?) at a tasting near you.  After all, as he told the press during the 2017 NBA Finals: "I just need some food and some wine and I'll be alright."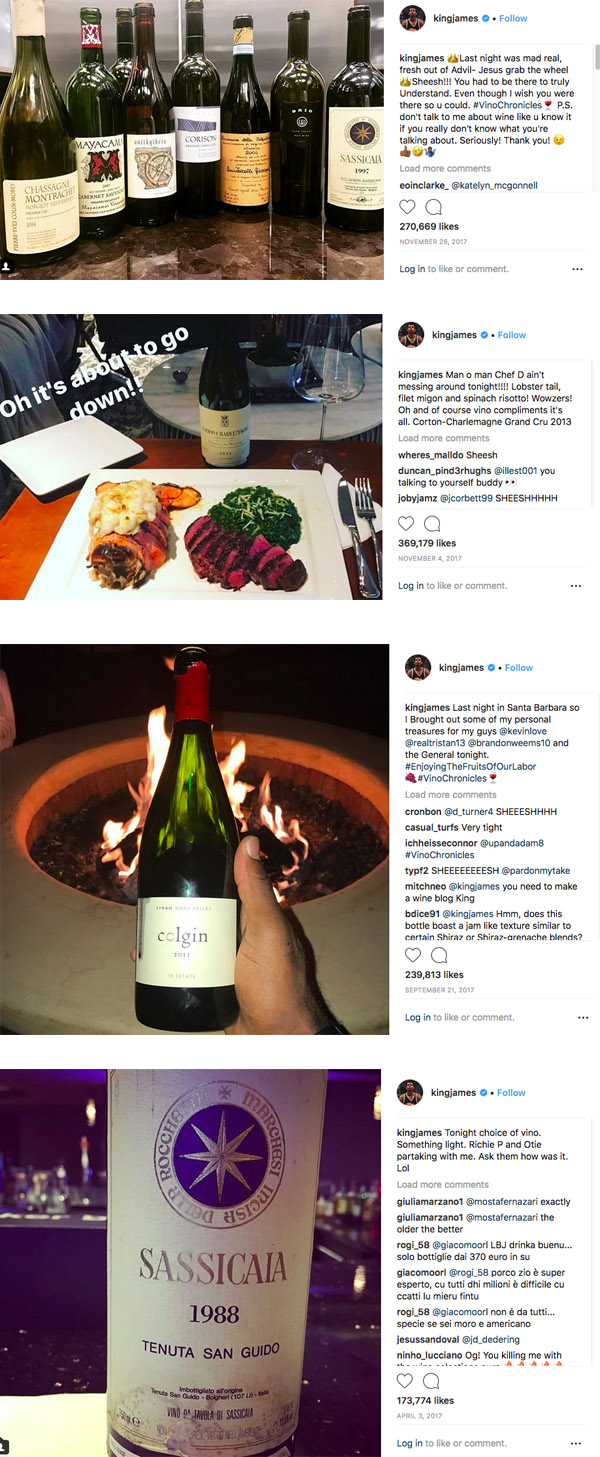 center
---
You might also like: