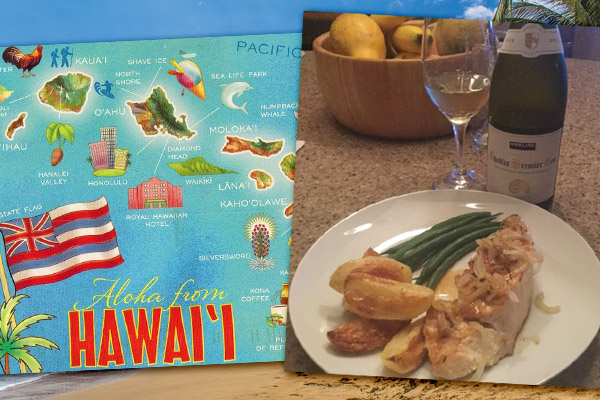 Started off 2018 on a lovely Hawaiian break but was still looking for wine bargains. Many moons ago your scribe first became a Costco member in Maui to take advantage of the good wine buys then available. Everything now has changed with the proliferation of brand names and price explosion for special terroirs but the usually futile search nonetheless continues.
On Maui first checked out Long Drugs that has competitive retail prices and which was long ago a treasure trove for Champagnes & Louis Latour Corton Charlemagne but they sure have downgraded their wine selections. However went heavy on the Mauna Loa All Natural Dry Roasted Macadamias with Sea Salt 11 ounce bags on sale for only $8.99 (usually $12.99).
Next stop was Tamura's Fine Wine in both Kihei & Kaanapali. Impressive wide selection of particularly California but not giving anything away. Some bubbles on sale but my choice of Gosset Brut Excellence was sold out so settled instead for a bottle of Perrier-Jouet Grand Brut for $39.99.
On to Foodland to buy some groceries. Delightfully surprised to see they have lots of wine stocked and much of it on special sale if you buy 3 bottles. Grab 3 of Taittinger Le Francaise (balanced 45 chard/35 pinot/25 meunier) $39.98 and a trio of dependable 2015 La Crema Pinot Noir Sonoma Coast at only $18.98 (cheaper than Costco).
End up at Costco and their wine section as usual is very busy with anxious customers. Carefully check out their many wines and vintages. Usually the high mark vintage score posted for most wines is for an earlier year than the one presently in stock. Frustrating. Get out your IWFS vintage card! Notice an old favourite still reasonably priced Barbera d'Asti Le Orme from Michele Chiarlo that pairs well with local Kalua pork dishes. Buy a gently floral co-op Nicolas Feuillatte Limited Edition Champagne for $26.99 and their 2015 Kirkland Chablis Premier Cru for $14.99. Know their Kirkland brand wines enjoyed with mixed success including their Champagne at only $19.99 but hadn't tried this new Chablis. Opened it that first night with fresh Opah fish and amazed at the true expression delivered. Smart by Costco to blend fruit from 2 rather obscure Premier Cru of Vau Ligneau (most westerly from Vau de Vey) & Vaugiraut (left bank north of Vosgros) using 12 months in stainless to show off the floral citrus well balanced mineral acidity of the appellation. An excellent wine pairing with fresh fish and a remarkable bargain found at last for this outstanding value. Well done!
Have you recently found a wine bargain?
---
You might also like:

Loading ...