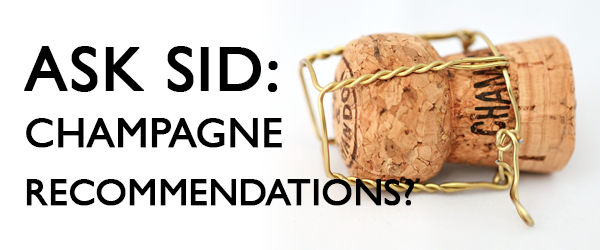 Question: I live in Victoria BC and enjoy drinking Champagne. Recognize that you visit and know this region well so would appreciate please a couple of your current buying tips.
Answer: Thanks for your kind words and yes I also enjoy fine Champagne. Lucky you are in British Columbia as the Champagne selection is quite diverse with a couple hundred products and is fairly world priced.
Presently suggest among many choices these 3 listed top bubbles in the BC LDB inventory:
1. LE MESNIL BLANC DE BLANCS GRAND CRU BRUT $50.99 (plus 15% taxes) This Champagne shows consistently well (including in blind tastings) with that special quality Chardonnay fruit from Le Mesnil region and is truly a best buy.
2. POL ROGER VINTAGE BRUT 2008  $94.99 Always dependable and so balanced that it ages really well. Still enjoying youthful 1996 & 1990 that are rare treasures. Their NV Cuvee de Reserve Brut for $65.99 and 2006 Vintage at $94.99 ( also mags for $199.99) are also excellent but much more forwardly drinking than the classic year of  2008 which with more needed bottle age will ultimately turn into a superstar. Outstanding.
3. PIERRE PAILLARD LES PARCELLES BOUZY GRAND CRU $120.99/MAGNUM (also in 750 for $56.99) Champagne in magnum size is always the smartest choice for aging. This one from vignerons in Bouzy since 1799 uses a base wine from 2013 of 60% pinot noir & 40% chardonnay disgorged August 2017 with a low 3.5 g/l dosage. Highly recommend putting a couple of these big bottles away for a future special occasion!
---
You might also like: