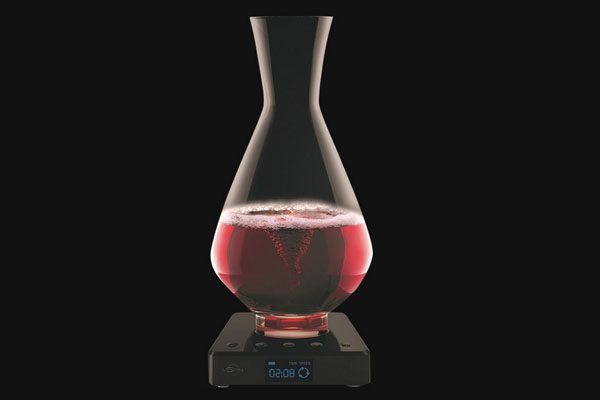 Image courtesy: vSpin.us
Your scribe is a big fan of decanting all wine served. Recommend decanting everything from young wines needing airing to open up and help with reductive issues to mature old ones avoiding the sediment for better texture. However both those are very different with no real concern about how long ahead for young wines and minimizing the time for old ones decanting at the very last minute just before first pouring into the glass. However, there are lots of wine aerators (some electronic) now on the market (including Amazon) that claim to expand the surface area of the wine better than decanting but often have problems such as dripping, leakage, acrylic cracking, tubing length, cleaning issues and the like.
The latest one causing a buzz here in the Pacific Northwest is vSpin (vSpin.us) by Bevstir USA Innovations Inc. in Bellingham Washington with their active decanting system in a classy German lead-free Crystal Decanter by Spiegelau that creates a gentle silent spin vertex to fully aerate your wine which  greatly increases the surface area. The base with batteries controls both speed and time settings. It did receive a 2018 German Design Award Winner by the German Design Council. Comes with a 10 year warranty and sells for $220 US or $300 Canadian on Amazon. They are claiming the technology results are "Enhanced aromas, richer bouquet, and mellows harsh tannin textures."  vSpin on their site hype a "4 hour decant in under 4 minutes". Also there is a specific spin speed (from 1 to 3) and duration chart for each varietal (different for New World & Old and Young or Mature) recommended by a local award winning sommelier Alistair Veen on their website that you could check out. Chart shows a range from 3:30 minutes at highest 3 speed for Young Nebbiolo to 1:30 minutes at lowest 1 speed for both Mature European or New World Pinot Noir. Interesting and provocative. System looks like it may have some potential. But this oenophile is from Missouri and would be unlikely to ever spin a mature red Burgundy. Much prefer to pour it directly from the decanter immediately into my wine glass and study the development from there even if it takes some time. A top mature red Burgundy deserves this continuous monitoring and the wait if needed. On the other hand some very old bottles may have lost their very best fleeting complex bouquet and best palate by starting to oxidize before the recommended spin time is completed and the wine served.  The distributor is setting up a demo for this scribe sometime in the New Year. Will report to you further on the results.  Do you have any experience with this vSpin or other popular aerating systems? Please chime in.
---
You might also like: