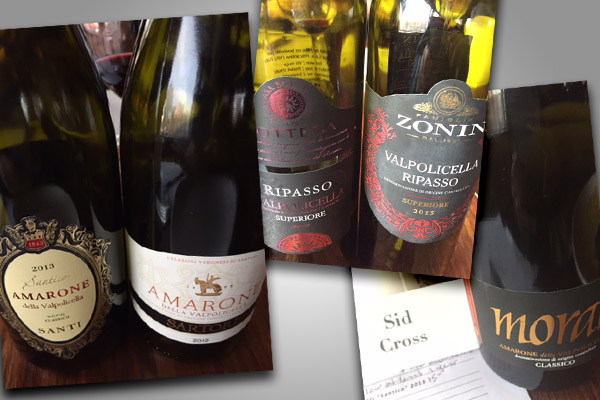 The Consorzio per la Tutela dei Vini Valpolicella (#ConsorzioValpolicella) was founded in 1924 as an association of grapevine growers (2286 & 7 co-ops) mostly on a hilly band of limestone soil, winemakers and bottlers of #ValpolicellaWines. It represents more than 80% of producers over 19 municipalities in Verona province of Italy with 3 main zones including Valpolicella DOC (most of the area including all of the Eastern valleys), Valpolicella DOC Valpantena (valley in middle section) and Valpolicella DOC Classico (the 5 most Western areas). Grapes are 97% indigenous varieties and only 3% international like Merlot. However the 3 main grapes grown are 57% Corvina (structure, aromas, softness) mandatory use of 45% (can use up to 95%), 21% Rondinella (versatile & strong resistance to weather and diseases) mandatory 5% (up to 30%), and 13% Corvinone (spicy black cherries, aroma complexity, and structure) not mandatory but up to 50% use. Production is 60 million bottles a year with Ripasso (Valpolicella in contact with residual Amarone skins for 15-20 days) now leading with 42%, #Valpolicelli DOC at 36%, and #Amarone DOCG at 21%. They are doing an excellent job of globally promoting this intriguing region and showing the ability of their wines to match well with a variety of foods. Their Director Olga Bussinello (ably locally assisted by wine expert Barb Philip MW, Sommelier Sean Nelson, and Leeann Froese of Town Hall Brands) returned to Vancouver again on November 27, 2017 (after a Hong Kong visit) to show six typical wines from the region matched with a tasty lunch of spicy modern Indian food at Vij's restaurant. Some brief impressions:
1. Novaia – Valpolicella Classico DOC 2016: Lighter bodied with some fresh vegetal notes but matches nicely with an hors d' oeuvre chick pea battered cauliflower. Better served slightly chilled like a Beaujolais.
2. Zonin – Valpolicella Ripasso Superiorer DOC 2015: Medium bodied with a blend of Corvina, Rondinella and some added acidity from Molinara grapes with 6 months in barrel has more aromatics and is quite lively & vibrant at 14 alcohol. Good match with the spicy vegetable dish.
3. Bottega – Valpolicella Ripasso Superiore DOC 2012: More aged with earthy notes from longer on the skins. Ripasso a by law requires at least one year oak aging. Lots of body and quality good but surprised by the label listing this at 15 degrees alcohol as your scribe is used to drinking these wines at a lower more refreshing level. Superb pairing with a delicious Portobello mushroom dish in creamy curry sauce.
4. Santi – Amarone della Valpolicella Classico DOCG "Santico" 2013: 80% Corvina & 20% Rondinella has 30 months aging at same alcohol 15 as Bottega Ripasso. Matched with grilled Tandoori chicken course accentuating some slight bitterness.
5. Sartori di Verona – Amarone della Valpolicella (not only Classico region) DOCG 2012: Different grape mix of 50% Corvina, 30% Corvinone, 15% Rondinella & 5% Cabernet Sauvignon same 15 alcohol but results in fuller rounder fruit less bitter resulting in a sublime experience with Vij's famous dish of lamb popsicles.
6. Valentina Cubi – Amarone della Valpolicella "Morar" 2007: Older example with tobacco meaty sweet balsamic spicy notes with 30 months in oak at 15.5 alcohol. Blend of 70% Corvina, 25% Corvinone, and 5% Rondinella. Intensity helps these wines to age often resulting in a better balance with time.
Have you tried a Valpolicella wine? Could be an interesting choice during your upcoming holiday celebrations. Lighter DOC or even Ripasso can pair well with roast turkey and finish up with Amarone for cheeses, desserts including plum pudding!
---
You might also like:

Loading ...