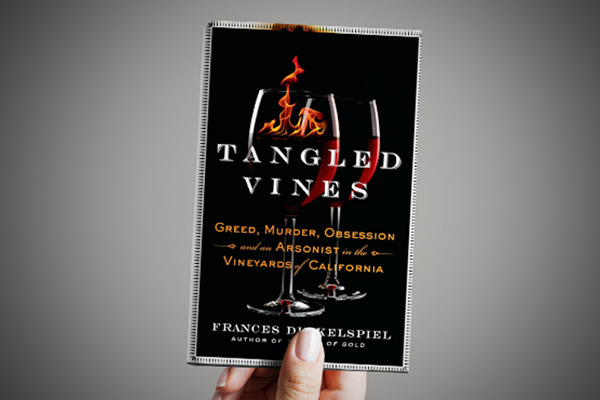 By Joseph Temple
Mention the topic of wine fraud and many of us recall the criminal exploits of convicted conman Rudy Kurniawan. Or perhaps the bottles supposedly owned by President Thomas Jefferson that were eventually exposed as fakes and the subject matter of 2008's bestselling book The Billionaire's Vinegar.  But often overlooked is a crime that occurred back in 2005 inside a massive Northern California warehouse that dwarfs the former two in terms of economic damage. It goes like this: After embezzling numerous clients and with local law enforcement closing in, Mark Anderson, the owner of a disreputable wine storage enterprise ultimately decided on arson in order to cover his tracks. And during one warm October afternoon, his criminal act inside Wines Central ended up destroying nearly five million bottles of premium wine, causing an unprecedented $250 million dollars in property damage.
Described as "the greatest crime involving wine in history," author Frances Dinkelspiel gives us all the gory details in her book Tangled Vines: Greed, Murder, Obsession, and an Arsonist in the Vineyards of California. A riveting true crime saga, the one-on-one jailhouse conversations with Anderson along her retelling of the government's airtight case gives the reader a crystal clear understanding of the culprit's motive, means and opportunity.  A well-known and somewhat likeable figure around the Bay Area, Mark Anderson cashed in on his connections by opening Sausalito Cellars, a supposedly safe and secure place for oenophiles to store their treasured bottles.  The only problem was that Anderson stole their collections and sold them to buyers all across the United States. It was a plan that was doomed for failure right from the start as more and more of his clientele began discovering missing bottles and eventually began pressing charges.
In the chapters dealing with Anderson's early criminal activity, Dinkelspiel hits the nail on the head as to why it was (and still is, as some might argue) so easy to commit wine fraud.  As she explains: "There often is little scrutiny of the wines offered for sale or consignment.  Few retail stores or brokers expect sellers to have receipts for their wine, particularly older vintages.  They assume that the wine was purchased long ago, has sat for a decade or more in a cellar, and the receipts are lost."  The "gentlemanly origins of wine collecting" as she calls it, allowed individuals like Anderson and Kurniawan to prosper, whether it was from selling legitimate bottles or through outright forgery. While some may think the industry is getting better at fraud detection, recent events show that there is still a long way to go.
During this time, Anderson had also been subletting a space at Wines Central, a gigantic storage facility located on Mare Island in Vallejo, California.  Originally built by the United States Navy, the cavernous warehouse proved to be the ideal spot for many Napa wineries to store their vintages, being centrally located and close to numerous highways and railroads. Interviewing many prominent figures in the Northern California wine scene for the book, you quickly realize that any act or arson inside Wines Central would have severe consequences throughout the state.
So at the same time Anderson read books like The Modern Identity Changer and Hide Your Assets and Disappear, he arrived at Wines Central with the intent to destroy the growing amount of evidence against him.  And after the smoke cleared, the damage he caused had a ripple effect all over Napa as ninety-five wine producers had been affected by his actions.
In her retelling of both the crime and the investigation that followed, it becomes obvious that Anderson clearly had no idea how to cover his tracks as ATF agents easily pieced together what had happened.  More concerning though is the fact that he was allowed to freely walk into the warehouse with equipment and devices used to commit arson.  If an amateur like him could cause billions in damage, hopefully the industry has learned from this and have beefed up their security, whether its storing wine or anything else for that matter.
Switching gears, the author devotes part of the book to explain the long and rich history of winemaking in the Sunshine State. Because the fire had destroyed 175 bottles that her great-great grandfather had made in the late nineteenth century, the story becomes personal for Dinkelspiel as she goes back several centuries to when the first Spanish missionaries began planting vines to make sacramental wine.  For those familiar with the history, there are many tales that you'll probably remember like how the first serious winemakers were actually part of the original "forty-niners" who, after failing to find gold, turned to grapes in order to make a living.  At the same time, there are also many you'll probably read for the first time, like how Southern California was originally the center for the state's wine trade with Los Angeles, also known as the "City of Vines." Spending a considerable amount of time in the archives, her research pays off as we are taken through the many peaks and valleys of California winemaking before learning about the fate of Mark Anderson.
Combining a rich and colorful past along with all the gritty aspects of a top-notch police investigation, Tangles Vines succeeds at making a perfect blend.  Full of personal stories and interesting anecdotes, the book gives a human face to the increasingly slick and faceless corporate image that is often associated with the Napa Valley. And by recalling tales of murder, greed, and destruction that have plagued the state since its inception, the historical context proves that Anderson's crime is unique only in terms of dollars and cents.
---
You might also like: