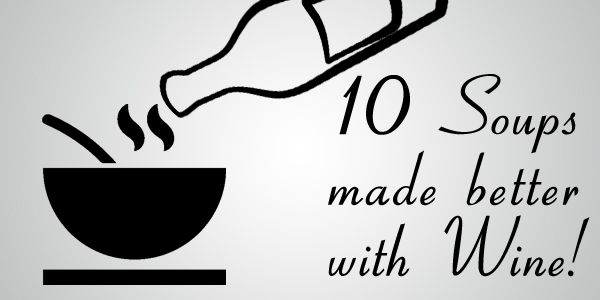 By Joseph Temple
Remember when adding wine to your favorite soup recipe – always use something you would drink. When in doubt, add whatever you plan to pair with it, and you never know, that bold glass of wine might just become your new secret ingredient!
---

1. Thai Chicken Soup – a splash of Gewurztraminer will lend subtle exotic spice and fruit notes while balancing the spice.

blank

2. Bouillabaisse –  sauvignon blanc adds another layer of complexity of this simple soup.

blank

3. Beef Stew – a robust red such as Cabernet Sauvignon will add a layer of sophistication to this slowly cooked delight.

blank

4. Cold Fruit Soup – the light floral fruitiness of a Pinot Noir would enhance the sweet and tart combination of seasonal berries, peaches, plums, and cherries.
blank

5. Summer Vegetable Minestrone – an acidic Sangiovese compliments the fresh herbs and juicy tomato of a once simple peasant dish; also, vegetables can be separately cooked in the wine before adding them to the broth.

blank
6. Mushroom Soup – depending on the creaminess, a lighter red such as Gamay Noir or buttery chardonnay would deglaze the mushrooms quite well before adding stock and cream.

blank

7. Cold Pea Soup – finish with basil for a twist on a familiar and pair with a sweet and crisp sparkling.

blank

8. French Onion Soup – the vegetable's caramelization of this forgiving classic that would do well to be deglazed with a wide range of wines including Sherry, Gamay Noir, or even Pinot Grigio.

blank

10. Lobster Bisque – although Cognac is sighted in many recipes, a smooth Sherry would do nicely to highlight this delicate seafood.

blank
---
You might also like:

Loading ...