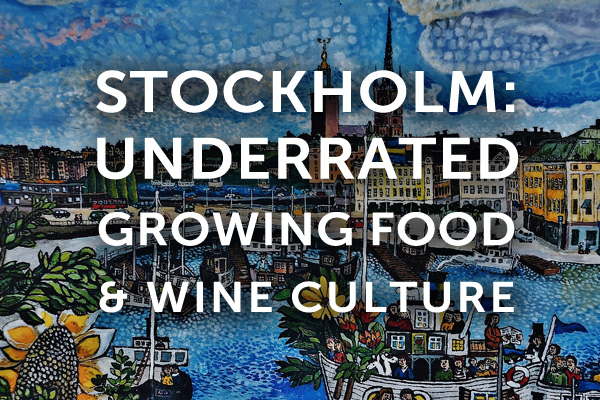 We all have heard of and admire the emergence of the unique culinary scene developed in Copenhagen under the inspiration of chef Rene Redzepi of Noma restaurant fame. This concept has been extended to his newer 108 and the many other restaurants opened by his disciples using quality local products. This "going green" focus on vegan and vegetables also is spreading to a more international style with several new popular hot spots in the developing meatpacking district with the very informal friendly Mother & even the upscale pizza being served at Baest.
However the Nordic food movement is alive and thriving with less world recognition also in Stockholm. On a previous trip your scribe was delighted by the tasting menu at now closed Fredman F12 and especially the talents shown by chef Mathias Dahlgren who back in 1997 won the Bocuse d'Or championship using natural produce to great effect at the Grand Hotel. Found this month that the culinary scene at the top end has expanded considerably with 3 newly discovered gems that indeed are very impressive though all are quite expensive.
1. The Champagne Bar By Richard Juhlin. The respected Champagne expert tasted and rated 8,000 of them in his 2013 tome A Scent of Champagne so he is ably qualified to find and serve you a glass or more of chosen choice bubbles. It has been relocated to Hotel Kungstradgarden at Kocksgrand 1 reopening after the Summer break on August 19.
Click to enlarge
2. Oaxen Krog. Blown away by 8 tasty hors d'oeuvre followed by a 10 course dinner prepared by Chef Magnus Ek and brigade. This place was honoured by a second Michelin star in 2015 and richly deserves it. The courses are well conceived with flavours that deliver far more deliciousness than many similar foraging style restaurants.  They also serve their interpretation of Scandinavian bistro food at Oaxen Slip. Special kudos to Fredrik Horn the Sommelier/Manager who provides knowledgeable wine pairings and is developing an expanding wine list of special offering including well chosen Champagnes (Roger Pouillon Solera 1997-2011). Enjoyed a sublime bottle of 1998 Clos de la Coulee de Serrant suitably decanted and structured 2010 Nuits. St. Georges Aux Lavieres Domaine Jean Grivot.  Serenely situated in Djurgarden at Beckholmsvagen 26 in Stockholm.
Click to enlarge
3. Gastrologik. Another tour de force effort of many courses by Chef Jacob Holmstrom (who worked with Mathias Dahlgren) and others where logical gastronomy of the future is shown on their no pre-defined set menu but the use of daily seasonal fresh ingredients that really do shine. The culinary works of art on the plate were highlighted by a tart of dried cepe mushrooms with pointed cabbage & field rose petals sitting on a bowl of rosehip buds that was a brilliant artistic masterpiece. New crop green peas with Mollosund oyster & pickled onions sitting on the empty peapods with iced granite melting on top was memorable. Some fair value wines assembled and served by Hans and the crew including a classy 2014 Bourgogne Blanc from Domaine Roulot. Located in the Ostermalm district at Artillerigatan 14 in Stockholm.
Click to enlarge
---
You might also like:

Loading ...