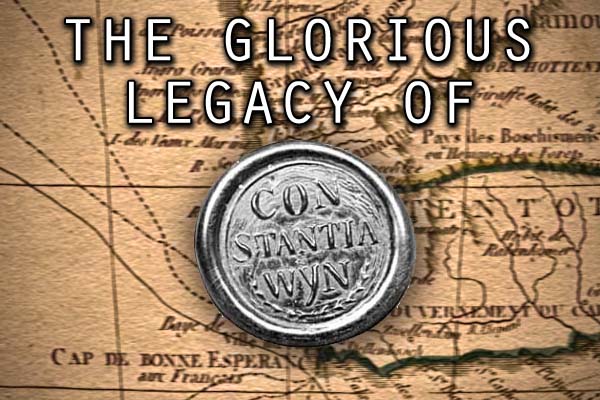 By Joseph Temple
Way back in the late 18th and early 19th centuries, there was one wine that was all the rage. A wine so popular that some of its biggest fans included Frederick the Great of Prussia, King Louis Philippe of the French, and Catherine the Great of Russia. Novelist Jane Austen once remarked that it had magical healing powers that could even cure a broken heart. And Napoleon Bonaparte drank so much of this particular brand while living in exile on the island of Saint Helena that he refused any other wine as he lay on his death bed. With a plethora of endorsements from Europe's most powerful monarchs and rulers, one might easily think that this wine came from a famous estate in Bordeaux or Burgundy. However, if that was your first guess, you would be wrong; this world famous wine was produced just outside of Cape Town on the estate known as Groot Constantia.
As mentioned in last week's blog entry, South Africa's wine industry was born in the 1650s as an outpost to fill the thirsty needs of Dutch sailors as they headed towards the Orient. But with the arrival of French Huguenots, a more sophisticated level of expertise arrived in Cape Town—and just in time as Simon van der Stal, an early Dutch governor had his 1,850 acre estate sold and divided. Named after van der Stal's wife Constance, the vineyards that became Groot Constantia fell into the hands of a German named Hendrik Cloete, who eventually made a wine that became the Cape's hottest export.
Planting a combination of Frontignac (Muscat Blanc à Petits Grains), Pontac and some Chenin Blanc, "Constantia Wyn" became a rare exception amongst the lackluster wines made around the Cape. Although records are sparse and incomplete, some speculate that Cloete left the grapes on the vines long after ripeness, which achieved a shrivelled but not botrytized concentration.
Whatever the secret may have been to Constantia's success, there was no denying that it was a smash hit from London to Saint Petersburg. In The Oxford Companion to Wine, Jancis Robinson writes, "Their [Constantia's] fame was never matched by any other New World wines and their height they commanded more prestige, more fabulous prices, and enjoyed more crowned patronage than the most celebrated wines of Europe (with the possible exception of Hungarian Tokaji)." While praised by author Charles Dickens and poet Charles Baudelaire, its most famous customer Napoleon had 297 gallons shipped in wooden casks to his home every single year.
Unfortunately, by the 1860s and into the 1870s, Constantia was no longer in vogue. Due to a number of reasons that included the collapse of the export market for Cape wines and the fact that sweet wines had become unfashionable in Europe, the vineyard fell on hard times. Along with low yields which drove up expenses, by 1885, the estate went bankrupt and was purchased by the government, bringing things to a painful end.
When looking back on the legacy and impact of Constantia, its stunning success proved that wines harvested in the New World could compete with the very best of France. One hundred and fifty years later as remarkable vintages from California, Argentina, and Chile are sold across the world, they all owe a debt of gratitude to this special fortified wine!
Sources:
Alexander, Patrick. The Booklovers' Guide to Wine: A Celebration of the History, the Mysteries and the Literary Pleasures of Drinking Wine. Coral Gables: Mango Media Inc., 2017.
Estreicher, Stefan K. Wine: From Neolithic Times to the 21st Century. New York: Algora Publishing, 2006.
James, Tim. Wines of the New South Africa: Tradition and Revolution. Berkeley: University of California Press, 2013.
MacNeil, Karen. The Wine Bible. New York: Workman Publishing, 2015.
Robinson, Jancis. The Oxford Companion to Wine, 4th Edition. Oxford: Oxford University Press, 2015.
Schoonmaker, Frank. Encyclopedia of Wine. New York: Hastings House, 1964.
---
You might also like: