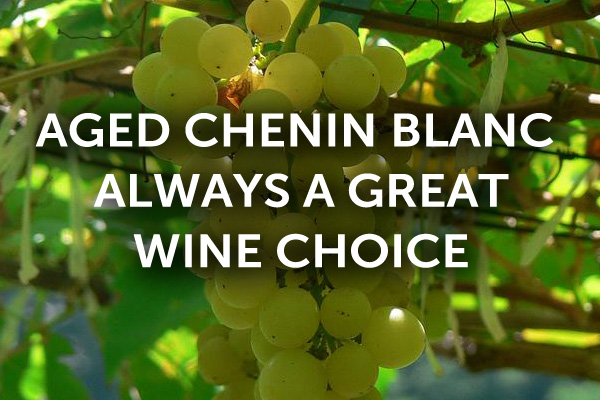 By Original photo by chrisada [CC BY 2.0], via Wikimedia Commons
As noted in last week's Blog your scribe recently enjoyed with dinner at Stockholm's superb Oaxen Krog restaurant a bottle of 1998 Clos de la Coulee de Serrant. It is a noted wine from the Savannieres region in the Loire made by the Joly family from Chenin Blanc grapes. I again was impressed about how well this nearly 20 year old white wine from a challenging vintage showed. On requested decanting it showed a deep rich yellow somewhat worrisome colour for a dry wine but it was outstanding. The complex developed bouquet showed wonderful peach, pear, apple and passion fruit honey notes with palate texture and balanced refreshing brilliant acidity. Surprisingly fresh. It matched so well with the varied early food courses of the meal. On many occasions I have enjoyed different vintages of this producer knowing best the high acid 1981 vintage that was collected on sale and stored to present perfection now. In the early days on the advice of Nicolas Joly I opened and decanted it even 24 hours ahead to let it soften and develop with airing but now it shows so well right after pulling the cork. Amazing longevity for a white wine at 35 years of age and a good reason to order an aged wine from Chenin Blanc grapes whenever you see it on a wine list.
Chenin Blanc is such a versatile grape (somewhat similar to Riesling) in styles from dry, off-dry, sweet, and sparkling. Road 13 Vineyards on the Golden Mile sub-region of the Okanagan Valley has vines planted in 1968 that has been producing an excellent dry Chenin with only one row of it experimented for Sparkling. However, it became so successful with that underlying acidity that now all the aged grapes will be used exclusively for their top Sparkling. Look for it. South Africa has textbook Chenin (Steen) sometimes mixed with other grape varieties but more quality examples are being seen in the export market. Check them out as well plus some wines from Argentina & USA. Loire has a diversity of regions including Vouvray, Quarts de Chaume, Pineau de la Loire, and Bonnezeau in a variety of styles. Acidity is key.
Are you trying some exciting Chenin Blanc with bottle age?
---
You might also like:

Loading ...