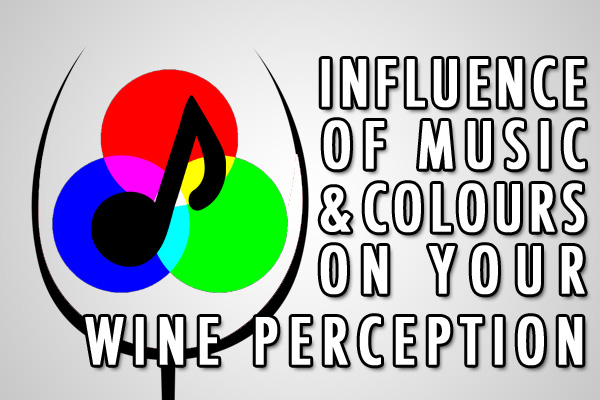 Your scribe is a long time admirer of the work by Professor Charles Spence of Oxford University an experimental psychologist specializing in sensory perception of food and wine. You may have heard about some of his more well known food studies including how the sound made by biting into a potato chip affects your perception as to how stale or crisp you think it is and eating strawberry mousse tastes sweeter out of a white container than a black one. The same arguments hold for beverages especially wine tasted with different music playing and other multisensory factors including colours in the room. Reference for more interesting discussion on these ideas at flavourjournal.biomedcentral.com
As a strong-minded sceptic I attended an actual demonstration of this theory last month in Germany conducted by Martin Messmer at Weingut Messmer (www.weingut-messmer.de). We tasted 6 wines all of the 2015 vintage blind in a circular tasting room at their winery in Burrweiler (Rheinland Pfalz) each with different coloured lighting in the room (from blue, blue/green, green, yellow, orange to red) and music (rock through to Mozart classic sonata). We rated the wines from 1 (best) to 6 (worst) based on these factors: schmeckt mir (how enjoyable), saure (personal choice for sour acidity), balance, nachhall (length of finish or aftertaste), and weinrebe (grape identity). In the final results two of the wines were the same with wine 1 & 5 being identical bottles of Riesling grown on schist soil (gives more minerals than granite) and wine 2 & 6 the very same Pinot Gris. Somewhat surprisingly we concluded that wine 5 showed much better structure than wine 1 and especially wine 6 was much cleaner brighter richer and enjoyable than wine 2. In fact it was hard to believe that wine 2 & 6 were in fact the same wine! Bottle variation? Martin Messmer says no but it is because of the influence of colour and music. As you move from the coolest colours to the warmest and louder assertive music to calmer your perception of the wine radically changes. Martin says "Music supports and helps us in the process. Our wines befall, as it were, an entertainment according to the resonance principle. Everything around us is vibration and this carries over. So the wine reflects itself to our thoughts and our passion also enriching and balancing vibration from the music once again. We are convinced that through this, our wines are even more salubrious, compatible, and digestible." It worked for me and I am no longer such a sceptic. As a result of this experience I will be doing more experimenting with the influence of colour, music and other sensory influences while drinking a wine. Can this be true? Suggest you give it a try. Please let us know your opinion.
---
You might also like:

Loading ...