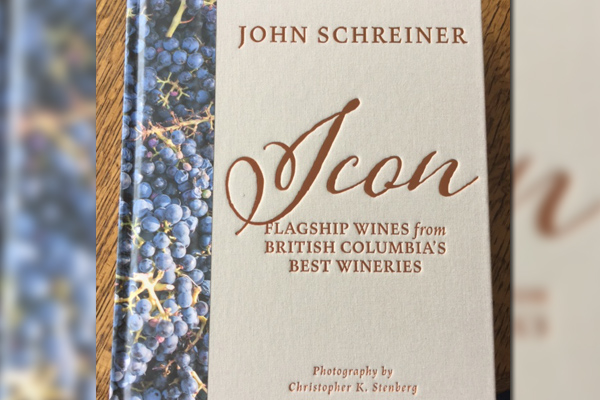 Your scribe enthusiastically endorses this newly published book Icon by respected wine historian John Schreiner. This topical 320 page tome perfectly captures the growing global respect for the special wines coming out of British Columbia. The growth of wineries has been really phenomenal now numbering more than 340 growing some 75 different grape varieties. This impressive work spotlights 98 of these top wineries plus some others "to put on your radar" who produce an "icon" (or flagship) wine being "the very best wine a producer can make". He has suitably chosen his "wines with a track record of rising quality", "not all… premium-priced", and his "objective with this book is to encourage readers to collect verticals of favourite wines".  As expected most of the wines selected are red with some of the top white wine producers including small-lot Terravista Vineyards noted by their absence. Hopefully subsequent editions will be expanded to include them and some of the other newer star wineries. Some wineries get detailed vintage reviews like 13 vintages (their first one 2001-2013) Osoyoos Larose Le Grand Vin and Mission Hill Family Estate Oculus 17 vintages (1997-2013). This book is dedicated "to Winemaker John Simes, who created Oculus in the 1997 vintage at Mission Hill Family Estates, continually refining it until it became the Okanagan's premier icon wine." Others like the exciting quality Checkmate Artisanal Winery has only their debut 2013 vintage. Classic quality pioneer Blue Mountain Vineyard and Cellars has a spotlight on all their "Reserves" including pinot noir, chardonnay and sparkling.
As a long time wine collector of wines from around the world and as one who is so appreciative of aged wines it is interesting to note these knowledgeable comments on the cellaring of BC wines: "A $20 wine can be expected to peak in seven years (in a good cellar). Most icon wines are constructed to age at least 10 years, improving and becoming more complex as they age. Indeed, the wines will likely cellar longer than that. As vines in this province have grown older and winemaking has become more skilled, the best wines are living 15 or more years."  This is indeed encouraging news!
The organized notes by trained journalist John Schreiner (who started out as a reporter for the Regina Leader Post followed by a very successful long career as Western Canadian Editor for the Financial Post) are always so well researched and eruditely expressed. This adds enormously to the readability and easy reference of his latest admirable work all set out alphabetically by winery name.  Members of the IWFS will please note John's valuable continuing contribution as a distinguished wine consultant on BC wines for our annual Vintage Card and author of the respected Monograph "Icewine". Wonderful photography by Christopher K. Stenberg is a welcome addition bringing the region alive with a focus on picturesque vineyards and excellent grapes.  The publisher is TouchwoodEditions.com and the price is $39.95 US/Canada. You need this volume to be informed on this exciting unique wine region that has emerged and you will also enjoy reading it!
---
You might also like: