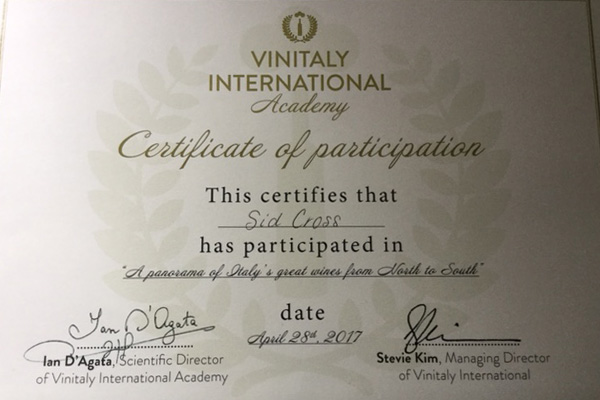 Vinitaly hosts their outstanding annual wine fair in Verona showing some 4000 producers (out of a total of around 75,000) which you should visit with the latest one just held April 9-12. In fact they now have coordinated dates with the Bordeaux Primeurs so you can visit the two events consecutively as they are going to be 3 days apart:
2018: Bordeaux Primeurs April 9-12 & Vinitaly April 15-18.
2019: Bordeaux Primeurs April 1-4 & Vinitaly April 7-10.
2020: Bordeaux Primeurs March 30-April 2 & Vinitaly April 5-8.
In February 2014 Vinitaly launched Vinitaly International Academy (VIA) and rolled out an annual Certification Course starting in March 2015. By February 2016 they had appointed 55 Italian Wine Ambassadors & 6 Italian Wine Experts from 15 countries. This now has grown from 61 to 86 with the largest representation from China with 13. There is also their new Italian Wine Maestro for the public and much more details on their wine marketing programs at prweb.com.
The Roadshow 3rd edition of the Certification Course launched in Vancouver on April 28, 2017. They will be in New York June 25-30 & China in September. "A panorama of Italy's great wines from North to South" showing 15 wines from among the visiting wineries was introduced by Stevie Kim Managing Director of Vinitaly International with the seminar conducted by Italian wine expert Ian D'Agata Scientific Director of VIA:
1. Graziano Pra – Soave Montegrande DOC 2015. Since 1988 pure fresh and elegant Soave from 70% signature garganega grapes grown on volcanic hills with some Trebbiano for acidity.
2. Medici Ermete – Concerto Reggiano Lambrusco Secco DOC 2016. Ruby red juicy Lambrusco with body goes well with charcuterie of cold-cuts & cheeses.
3. Paltrinieri – Grosso Lambrusco di Modena DOC 2013. Very light pink colour but 36 months on lees provides refined delicate rose-hip berry violets aromatics.
4. Azienda Rubino – Punta Aquila Salento Rosso Primitivo IGT 2014. Deep usual purple colour of Primitivo from younger vines planted 2000 has typical tobacco aftertaste in a modern style.
5. Tasca d'Almerita – Rosso del Conte DOC 2013. Historic wine with that licorice balsamic notes of Nero d'Avola from Sicily is smooth with balanced acidity to age well.
6. Cantina del Pino – Barbaresco Ovello DOCG 2012. Old Estate but their first one 1997 of Ovello at top of hill facing S/SW on sandy soil giving fragrant light on its feet Nebbiolo.
7. Marchesi di Barolo – Baolo Sarmassa DOCG 2012. Deeper with strong character in a big Barolo style that needs time to open up and show elegance.
8. GD Vajra – Vajra Barolo Bricco Delle Viole DOCG 2012. High elevation 400 metres cooler site is more floral with red berries cherries and violets.
9. Ciabot Berton – Barolo Roggeri DOCG 2010. Very impressive from top hilly La Morra site 300 metres SE exposure clay-calcareous soils and 40 year old vines first aged in French oak and then Slavonia casks. Like that classic balanced structure of Barolo from the 2010 vintage. Ian says best years are 2001, 2008 and 2010. 2009 earlier drinking and 2011 less obvious with some staying power and excelled in Barbaresco better than 2010 (as did 2014). Remember the "tar" needs age to show up in Barolo!
10. Umani Ronchi – Vampo San Giorgio, Conero Riserva DOCG 2011. Their 3rd vintage grown from 800 bottles in 2009 to 4000 in 2011. Montepulciano improving as they learn to tame the tannins by planting in cooler sites for longer hang time to avoid those usual green grape seeds.
11. Castello Romitorio – Brunello di Montalcino DOCG 2011. High altitude vineyards from the cool area shows vibrant acidity with red berries, sour cherries, black tea, and violets. As ages more underbrush and tobacco will develop.
12. Giusti dal Col – Amarone della Valpolicella Classico DOCG 2012. 85 year old Veneto vines with individual grape picking and air dried till February. Sweet cherries, macerated plums, chocolate and coffee at 16 1/2 alcohol.
13. Col d'Orcia – Brunello di Montalcino DOCG 2007. SE warmer area and lower elevation gives a riper rounder spicier version with some bottle age. Your scribe opened their 1978 last month and it was so exquisitely aromatic and delicate.
14. Tenuta di Capezzana – Villa di Capezzana DOCG 2007. One of the oldest estates starting from the twenties. New project started in 2006 has 10 year aging before release. 80% Sangiovese & 20% Cabernet Sauvignon in French oak shows well. Make great Vin Santo too.
15. Donnafugata – Ben Rye Passito di Pantelleria DOC 2014. Sweet 200 grams sugar with acidity lift of Muscat of Alexandria sun dried 3 weeks on the soil of unique windy island shows ripe tropical fruits peach apricot and floral notes and will age well.
Like this educational venture by VIA and pleased to participate receiving my certificate. Good luck with your expanded wine program!
---
You might also like: