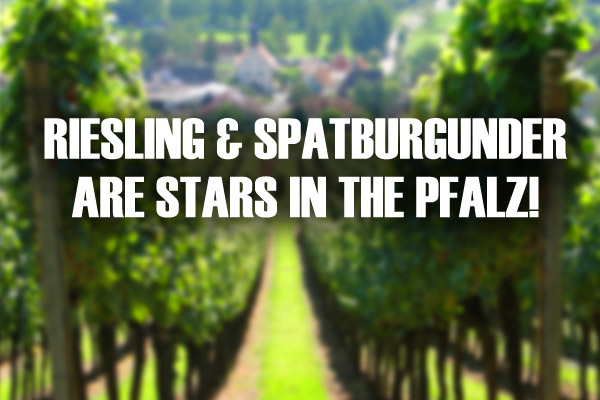 Impressed with the Riesling and Spatburgunder (Pinot Noir) on my trip to the Pfalz this month. This region has the largest area in the world planted in Riesling and they are producing superb wines from this variety. Really impressed with the dedicated focus on terroir and the resulting Riesling definition in the wine depends on the soil where it is grown. Generally slate soil shows elegant minerals, sandstone (yellow & red) gives more apricot fruit flavours, and clay results in a more citric character. However there are still issues because the hot 2015 vintage has resulted in some dry Trocken at a tiring 15 degrees of alcohol lacking the usual wonderful freshness and vibrancy they usually do so well. Spatburgunder is thriving with global warming especially on limestone soils but is still only just over 7% of the vineyard area (there is 3 times that amount planted in Baden) well behind the dominant easy drinking red Dornfelder. Highly endorse the delicate round complex pinot noirs from Weingut Friedrich Becker (www.friedrichbecker.de) now into their 6th generation. The winery is in the south Pfalz at the French border with a key unique 50 year old vineyard planted in 1967 with Swiss clones which actually is still in France! This results in some labelling and legal issues which I won't get into here.
During my trip I was able to attend the annual Pfalzer Lagen Art held at historic Hambach Castle with the opportunity to taste some 400+ wines from 89 producers. Lots of worthy wineries showing some excellent wines so here are just 20 of them that impressed me in the order I tried them:
KNIPSER: 2015 Mandelpfad Riesling GG (VDP. Grosse Gewachs); 2012 Kirschgarten Spatburgunder GG
PHILIPP KUHN: 2015 Schwarzer Herrgott Riesling GG
FRITZ-RITTER: 2015 Herrenberg Riesling GG
PFEFFINGEN: 2 Riesling 2015 GG – Herrenberg & Weilberg
PFLUGER: 2014 Durkheimer Fronhof Spatburgunder "R" – Balanced big cherries with lots of richness!
DR. BURKLIN-WOLF: 2 Riesling 2015 with 100% barrel fermentation – minerally Ruppertsberger Hoheburg & more peachy on sandstone soil of Wachenheimer Goldbachel
GEORG MOSBACHER: 2015 Ungeheuer Riesling GG
HEINRICH SPINDLER: 2015 Forster Ungeheuer Riesling Auslese
DR. BASSERMANN-JORDAN: Do 90% Riesling – 2016 Deidesheimer Kieselberg Riesling
VON BUHL: Good wines from Deidesheim including apple aromas of Sparkling Riesling
GEORG SIBEN ERBEN: 2014 Langenmorgen Riesling GG
VON WINNING: Winemaker Andreas Hutwohl likes screwcap for up to 5 year consumption & uses cork for his Grand Cru. Good 2016 Rieslings.
A.CHRISTMANN: Delicious maturing 2013 Reiterpfad Riesling GG but sold out.
MULLER-CATOIR: Family owned since 1744 with historic Manor House in Haardt built in 18th century using 100% own vineyards for refined wines by owner Philipp David Catoir & Winemaker Martin Franzen. Interesting to taste the difference between 2 Haardter Riesling 2016 –  one from Burgergarten yellow sandstone with layers of clay & loess against Herrenletten sandy soil with layers of limestone & marly clay.
BERGDOLT KLOSTERGUT ST. LAMPRECHT: Lovely Kalkberg Spatburgunder 2013 GG
THEO MINGES: Impressive GG 2015s Weissburgunder & Riesling (but 14.5 a bit hot)
OKONOMIERAT REBHOLZ: Talented experienced winemaker Hans Jorg Rebholz has a wonderful portfolio of wines. Great 2015 Ganz Horn Im Sonnenschein Riesling GG at 12.5 very fresh with petrol. Making superb Spatburgunder on only limestone soils.
GIES-DUPPEL: Young dynamic Volker Gies in Birkweiler is looking for freshness in a modern German style. 2 years on yeast for 2104 Weissburgunder (70%) & Chardonnay (30%) blend at reasonable 13.50 euros. Juicy cherries in 2014 Ilbesheimer Kalmit Spatburgunder.
SIEGRIST: Top quality with 2015 Sonnenberg Riesling GG (24 euros) & marinated sweet cherries of 2012 Kalmit Pinot Noir GG at 14 alcohol is delicious (35 euros)!
FRIEDRICH BECKER: Admire everything this amazing Schweigen winery does. The 2 Spatburgunder 2013 they showed were both so balanced elegant and complex. Winners with both bigger style from limestone clay of Rechtenbacher Herrenwingert & more delicate ethereal Schweigener Steinwingert.
Have you tried any of these exciting wines from the emerging Pfalz region of Germany? If not you should!
---
You might also like:

Loading ...