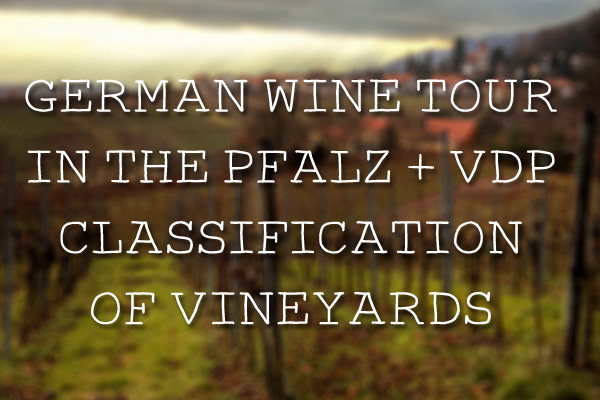 "Rhineland-Palatinate" by Wolfgang Staudt CC BY 2.0
Just returned from last week spent in the Pfalz region of Germany on a very informative media wine tour organized by Wines of Germany. Impressed by the wines, the scenic countryside, the friendly locals, and lots of fresh spargel (white asparagus). The Pfalz name is derived from the Latin word "palatium" for palace which often in English is referred to as the Palatinate. The wine region runs for almost 50 miles from the north by Rheinhessen to the south at the French border along Germany's oldest wine road established in 1935 as Deutsche Weinstrasse. Leading all plantings with 25% is some excellent Riesling (world's largest planted region of it), popular Weissburgunder (Pinot Blanc) as well as Grauburgunder (Pinot Gris) & Muller-Thurgau, and reds ever increasing (now up to 36%) helped by global warming led by the surprising quality of Spatburgunder (Pinot Noir) plus Dornfelder & Blauer Portugieser. Diverse soils with prevalent loam, sandstone, limestone, clay, sand, loess, granite and schist together with the slopes, micro-climates & yields is resulting in a great focused emphasis on the terroir of individual vineyards! Important to know that there are many growers (around 3000 – many of whom are part time) in the Pfalz and 50% of them are members of wine cooperatives. On the other side wines from the small private estates show a more impressive focus on the quality of their specific vineyards. More next week on some specific wineries in the Pfalz and some wines that are highly recommended.
One factor that really struck me this trip was the strong ever increasing influence of "terroir" and the VDP (Association of German Pradikat Wine Estates) that includes just under 200 invited member wineries that goes back to 1910 followed in 1926 by their VDP eagle design for best sites. In 2012 they implemented a four tier classification of vineyards linked closely to "terroir" ranking by origin & quality of a wine based on history, soil geology, slope, and distinctiveness among other assessed factors. This helps to market their ever increasing dry wines as well as the classic Pradikats reserved for wines with natural ripe sweet styling. Stated to be only binding for the VDP members it is now receiving such an increased intense following by everyone studying quality German wines to try to determine Germany's best vineyard sites and those best wines from a specific vintage year. Their pyramid of 4 levels starting at the top are:
1. GROSSE LAGE  "The peak of the pyramid". Best sites planted with traditional grape varieties of reduced yields of maximum 50 hl/ha as determined by each region for exceptional aging potential. In Pfalz this includes Riesling, Weissburgunder & Spatburgunder. (Note: In Mosel-Saar-Ruwer & Nahe it is only Riesling while Rheingau & Rheinhessen both include Riesling plus Spatburgunder). Best wines receive VDP.GROSSE GEWACHS for whites on September 1 of the year following the vintage harvest & reds on September 1 two years after (having spent at least 12 months aging in oak casks).
2. ERSTE LAGE "First Class" Yields increased up to 60 hl/ha and wider permissible grapes. In Pfalz includes Grauburgunder, Chardonnay; and exclusively for wines with some residual sweetness: Scheurebe, Gewurztraminer and Muskateller.
3. ORTSWEIN or village wines "Sourced from Superior Soils" with yields up to 75 hl/ha.
4. GUTSWEIN or regional wines "Good from the Ground Up" are entry level wines also with a maximum of 75 hl/ha.
Be sure to check out these important classifications on your new German wine purchases!
---
You might also like:

Loading ...