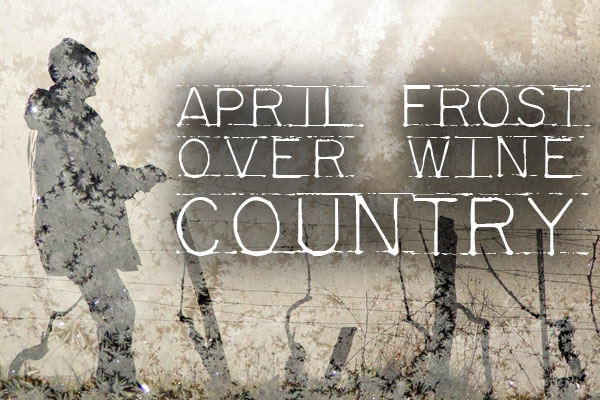 By Joseph Temple
Throughout the vineyards of Western Europe, don't expect too much out of 2017.
That's because last week, an unusual and severe frost, considered by many to be the worst in a generation, wreaked havoc on both sides of the Channel, severely crippling the wine industry across England and France. In the former, winemakers scrambled to light candles next to the emerging buds facing subzero temperatures. Dropping down to -6°C, one English vintner described the entire ordeal as "catastrophic" while another stated: "I've been in English wine for 30 years and never seen anything like it … It looks like there will be a 50% drop in this year's expected yield – if not higher."
With an emerging wine industry, England, which is increasingly becoming known around the world for its world-class sparkling wines is expected to be hit hard by this devastating spring frost. But by having such a strong focus on fizz, the impact won't reach the consumer until 2020.
Moving on to France, the situation is just as dire as winemakers used everything at their disposal, from candles to helicopters to salvage what they could of this year's harvest. Already enduring a 7% decline in total annual output last year due to a plethora of unfavorable weather conditions, two of its most famous regions—Champagne and Bordeaux—were likely hit the hardest. In the land of bubbly, it is estimated that between 20 to 25% of the region's vine shoots were destroyed while the Bordelais have called this the worst frost to hit their region since 1991. Effecting every appellation from Médoc to Sauternes, and especially bad in the Right Bank, more than 60,000 hectares were struck by Mother Nature on April 20-21 and April 27-28.  According to Decanter, approximately 20% of Bordeaux vineyards lost between 90% and 100% of their potential 2017 crop.
In terms of dollars and cents, the damage in Bordeaux alone is at least €1billion. "We can already estimate that we have lost nearly half of the potential crop," said Xavier Coumau of Bordeaux's Syndicate of Wine and Spirits Courtiers. Adding fuel to the fire was the fact that a warmer than usual spring caused shoots to develop more rapidly. "The vineyard was three weeks ahead in its growth, shoots were already well developed. Frost destroyed everything – shoots are dead," according to one French union official. Whether subsequent shoots will be able to flourish is still up in the air.
Luckily for some, they may escape with only a minimum amount of damage based where the vines were planted. Those in low-lying areas where the cold air settles are more susceptible as opposed to those on higher plateaus and on slopes. Interestingly, only 25% of winemakers in France are covered for this sort of damage by insurance companies, who charge enormous premiums that a majority simply refuse to pay.
What do you think of these most recent events? Is climate change making this the new normal in 2017? Comment below.
---
You might also like:

Loading ...