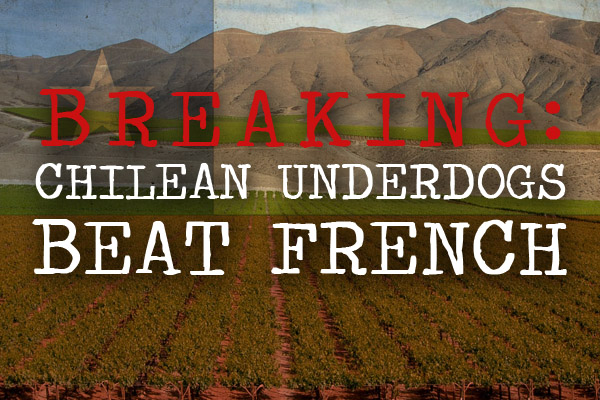 By Joseph Temple
Due to a series of articles, books, and even a major motion picture, most wine drinkers probably know something about California's upset victory over France during a 1976 blind tasting known as the Judgement of Paris. Dismantling the perception of French superiority widely held across Europe (as well as in America), the Stephen Spurrier organized event proved to be a watershed moment in the history of wine, turning the spotlight away from Bordeaux and Burgundy and onto the Golden State. Red in the face after such a high profile loss, many in France believed that the whole debacle was nothing more than a wild fluke—a fluke that would never be duplicated.
However, at a blind tasting held twenty-eight years later at the Ritz-Carlton Hotel in Berlin, Francophiles were shocked to learn that two Chilean wines had beaten Château Latour, Margaux and Lafite, all first-growths considered sacrosanct to oenophiles. At the time, it seemed surreal that the Republic of Chile, seen by many as a backwater region and described by one British writer as the "Volvo of the wine world" could pull off an upset arguably greater than the Judgement of Paris. But for new-world enthusiasts who felt that French wine was becoming increasingly banal, the 2004 tasting became their coup de grace.
While America had Chateau Montelena and Stag's Leap Wine Cellars, the Chilean equivalent became Viñedo Chadwick, a wine harvested in the foothills of the Andes. Possessing a Mediterranean climate, the 15 hectare vineyard built on a former polo field became known as one the country's best places to grow Cabernet Sauvignon grapes. And it's 2000 vintage, which stole the show in Berlin was described by one wine writer as "voluptuous and full of ripe plum, prune and blackberry flavours, with notes of vanilla and coffee."
Taking this wine on the road to compete against the very best, vineyard owner Eduardo Chadwick faced some stiff competition in Germany. In front of Stephen Spurrier and 35 other judges, 16 cabernet-dominated blends from France, Italy, and Chile squared off in what was being promoted as a repeat of the famous tasting held in Paris. Competing for the top prize included Lafite-Rothschild 2000 (Robert Parker score: 100), Margaux 2000 (RP: 100), Latour 2000 (RP: 96), Margaux 2001 (RP: 93) and Latour 2001 (RP: 95).
Despite this impressive collection of Bordeaux, the upstart Viñedo Chadwick and its cousin Seña 2001 took home first and second place respectively, making a milestone in the Chilean wine industry. As one observer described, "What they [some judges] told us was that if they had seen the labels beforehand, they wouldn't have chosen the wine." Riding this whirlwind of international publicity, Chadwick took his wines across the world for nearly a decade, competing in twenty-one different tastings. During this period, people's perceptions would change dramatically, ending the idea that all Chilean wines were "Volvo." The country hasn't looked back since.
Sources:
Clarke, Oz. The History of Wine in 100 Bottles: From Bacchus to Bordeaux and Beyond. London: Pavilion Books, 2015.
Crosariol, Beppi. (2004, July 3). Chilean underdogs beat French. The Globe and Mail.
---
You might also like:

Loading ...