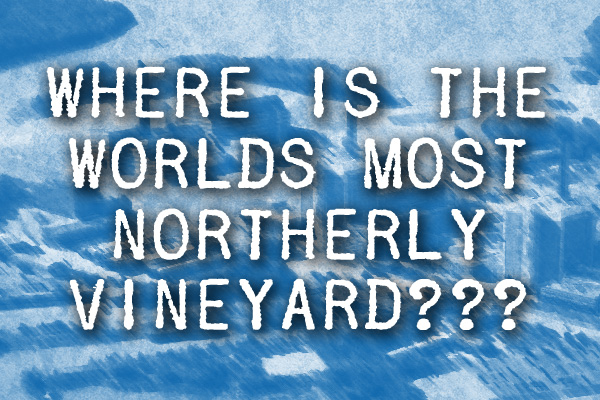 By Joseph Temple
Over the years, this blog has profiled several winemakers applying their craft in some of the most unfriendly weather conditions possible. Let's face it—when we think of wine, most of us conjure up images of Bordeaux, Burgundy, or Napa Valley—not places like Quebec and Minnesota. At the same time, you can't help but tip your hat to those vintners who are defiantly standing up to Mother Nature and successfully harvesting grapes in some of the chilliest areas of North America. It also makes you wonder how far (or how north) winemaking can go?
It turns out that Canadians and Americans aren't the only ones pushing the envelope. Germans have been making wine on the island of Sylt for years while countries such as Denmark, Latvia, and Norway all have vineyards. But the award for the world's most northerly vineyard goes to Finland; just north of the 61st parallel is a place that makes a little under 2,000 pounds of Zilga grapes annually.
In the Gulf of Bothnia, on Olkiluoto Island is a vineyard in one of the most unlikely places you would expect to see viticulture: right next to a nuclear power plant. "Flanked by a dense forest, the deep green plants protrude into a clear blue sky," writes one journalist. "There is a soft breeze. It could almost be France. But the vines are shadowed by two imposing concrete structures and several tall red cranes." Of course, given the arctic-like conditions (temperatures can drop to -5.6 C during the winter), the vines on this quarter acre of land greatly benefit from their atomic neighbor. Because of the heat generated by Olkiluoto, the vineyard is warmed by the waste coolant water, which is non-radioactive and flows through a series of underground pipes.
With 150 vines first planted in 2001, the Zilga is a fast-maturing grape which comes from Latvia and is known to produce abundant harvests while being resistant to harsh winter weather. However, getting your hands on a bottle might be tough. "Of course we don't sell it," said one plant employee. "It's for our staff parties."
---
You might also like: