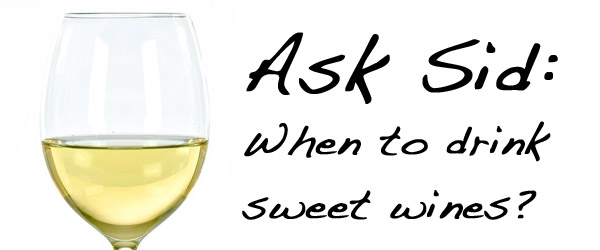 Question: I have collected quite a few different sweet wines from Austria, Germany, France and the New World including Canadian Icewines. Find I am not using them with dessert as much as I expected to do. Any other ideas for me?
Answer: Yes when to drink sweet wines seems to be a growing issue for a lot of us – me included! I am trying them with varying success paired to a variety of main courses like pork, poultry or veal in cream. With the right sauce seafood particularly scallops and lobster can result in a good match. Spicy Asian and Indian dishes usually work brilliantly. Experiment. However what I am enjoying most is using my sweet wines more often as an aperitif. Riesling especially has underlining refreshing high acidity that makes for a lively delicious opening wine regardless of how sweet it is. I like a small pour of Sauternes or icewines on their own as an interesting "cocktail" to study at the beginning of a meal. Close friends of mine are using them mixed with either sparkling water or reasonably priced sparkling wine. Boy does that last combination ever improve the flavours of that cheaper sparkler! Please let us know what new ideas you discover.
---
You might also like:

Loading ...