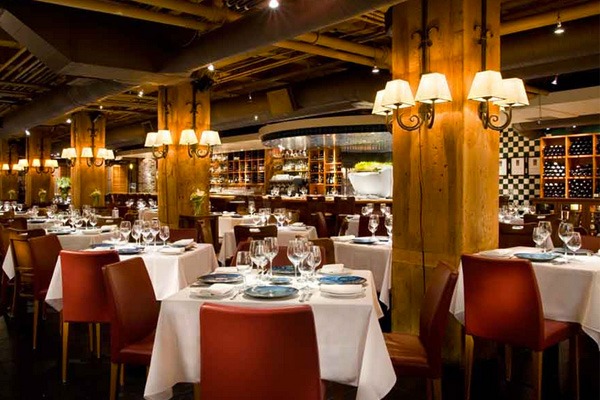 Image: bluewatercafe.net
One of the most talented chefs in Canada is Frank Pabst of Blue Water Café + Raw Bar in Vancouver. His accomplishments are many including winning the 2008 Gold Medal Plates Vancouver with an innovative dish of Qualicum Beach scallop and red sea urchin brilliantly blended together into a mousse with a ponzu sauce, wakame seaweed & leek salad lapped by a cucumber vichyssoise foam. Last week attended his 13th annual Unsung Heroes Festival on for the month of February featuring again under-utilized seafood from local sustainable fisheries. Your scribe is always enthusiastic about this event which raises seafood public awareness by featuring these rare exotic items from the sea prepared as interesting varied culinary dishes for sharing. It is amazing how tasty some of these lesser known treasures can be when the chef brings experience and skilled know-how to their preparation. The smoked mackerel and whelks really shone brightly. Sturgeon liver is really delicious when blended with some duck foie gras (added as a secret ingredient not mentioned on the menu) into a creamy textured mousse. Missed the periwinkles and gooseneck barnacles this year which were difficult to harvest due to the recent stormy very cold snowy winter weather. Highly recommend the 2017 menu of 11 different dishes with well-chosen suggested wine pairings as follows:
Click to enlarge
Do you have some unsung seafood items being utilized in your region? Please let us know!
---
You might also like:

Loading ...