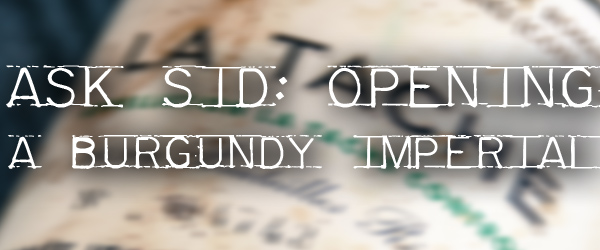 Question: What is the best way to open an imperial ? The size and condition of the cork because it's a 1970 DRC LA TACHE worries me.
Answer: The 1970 red Burgundies are generally under-rated because the large crop size (could have used the saignee technique back then) resulted in less concentration than either 1969 or 1971. But La Tache seems to be superb in expressing the style of every vintage and could be a fresh elegant exquisite treasure in that large format size of 6 litres (or 8 regular 750 ml. size bottles). However, our experience with these big bottle Burgundies is that some of them can show more oxidation than even the smaller sizes. The reason we believe is that the cork does not always seal as tightly at the bottom of it as the neck widens so quickly in that large Burgundy size compared to the straight down Bordeaux neck. Would be better and safer if they used a champagne or port style cork that flares out more at the bottom. In several comparative tastings we did of the same DRC Burgundy wine in sizes up to an Imperial the magnum has usually shown the best freshness. Still you won't know how your exciting big bottle of 47 year old wine will be until you open it. Anticipation! Each bottle at this stage of aging is different and I have enjoyed some sublime old Imperials. IMHO the best opening procedure is to carefully use The Durand Corkscrew with confidence. Once the cork is out check the wine for any issues including especially how advanced it is. May have to be very careful not to give it too much airing. The big size can be difficult to hold for decanting without disturbing the sediment so go slowly in pouring it out or alternatively I would siphon it off with some plastic or rubber tubing into the magnum decanters. Good luck! Please report back.
---
You might also like:

Loading ...